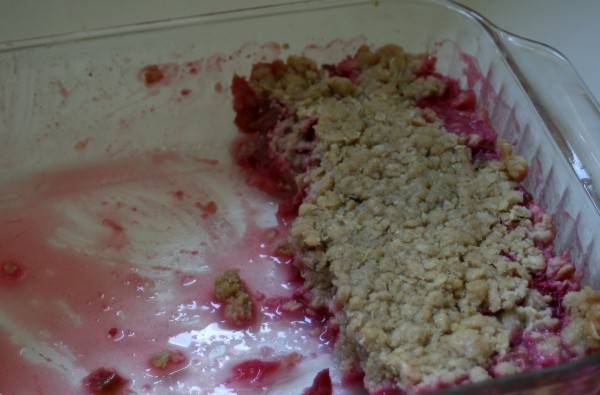 Rhubarb is still prolific here in Wisconsin – if you have a nice sunny spot in the corner of your garden, I highly recommend you plant some!  It's a perennial, and will come back year after year. You won't be able to harvest for two years, but I promise the wait is worth it.
Some fun rhubarb facts: Rhubarb is a vegetable, although it is used as a fruit. Its nickname is the 'pie plant'. The leaves are full of oxalic acid, and are poisonous if ingested. Actors who are supposed to be having conversations in the background of film or stage productions often say the word 'rhubarb' over and over again – apparently it looks like they are really talking (I guess I'm not sure why they don't just have an actual conversation – wouldn't that look like they are really talking too?)
My earliest rhubarb memory is from early childhood, at my first house in Des Moines, IA. We had a rhubarb plant, and I remember my father chasing me around with a stalk, trying to get me to eat it raw. I also remember him sternly warning me not to eat the leaves. I couldn't figure out why I could eat the red part but not the leaves. Since there was no way I was eating it anyway, it didn't really matter. Although we had a rhubarb plant, I have no memories of anyone cooking anything with it. Too bad.
If you have an adventurous child, it is kind of a fun snack to give them some slender, tender stalks and let them dip it into a bowl of sugar and crunch on it raw. Kids are kind of down with anything that involves them getting a small bowl of sugar to eat.
And on to the main attraction: rhubarb crisp! This is a totally basic recipe, but it's the rhubarb recipe I make most often, so I thought I'd be remiss to not include it. The topping is really sweet, so it's ok to go easy on the sugar in the filling. I like the sweet/tart combination. You can use as large as a 9×13 baking dish, but I often use a slightly smaller oval baking dish – the topping is just thicker.
Rhubarb Crisp
15-25 rhubarb stalks, trimmed and cut into 1/2 inch pieces
1/4 cup sugar
1 1/2 cups flour
1 cup sugar
1/2 cup brown sugar
1/4 tsp salt
1 cup quick cooking oats
1/2 lb cold unsalted butter, diced (2 sticks)
1) Mix rhubarb stalks and 1/4 cup sugar directly in baking dish, set aside.
2) Whisk together flour, 1 cup sugar, brown sugar, salt, and oats.
3) Cut in butter using pastry cutter or two knives. Finish by rubbing the butter into the flour with your fingers. It should resemble small peas when you are done.
4) Preheat oven to 350 degrees. Press topping onto rhubarb. Bake 40 minutes to an hour, until top is golden and filling is bubbly. Enjoy warm with ice cream, or cold for breakfast.