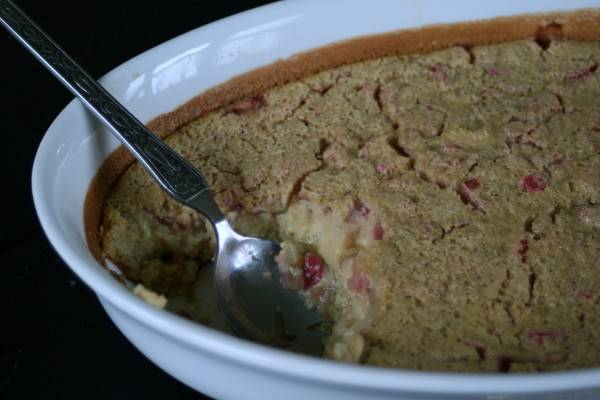 My rhubarb has finally reached a good height for pulling (did you know that rhubarb stalks should be pulled, and not cut or broken?) I'm excited for a mini-marathon of rhubarb recipes.
First up, Rhubarb Custard. This was adapted from a recipe in this month's Martha Stewart Living. I made a few changes to make it (gasp) a tiny bit healthier, most notably the addition of white whole wheat flour. I typically don't do this, but I gave it a try. The result? I liked it, my son loved it, and my husband was wondering what was wrong with me since I served a not-so-sweet dessert.
It isn't super-sweet, and I actually think it would make for a special breakfast or unique brunch dish. Enjoy!
Rhubarb Custard, adapted from May 2010 Martha Stewart Living
butter for greasing baking dish
a few T of white sugar for sprinkling in dish
3/4 cup brown sugar
12 oz rhubarb, diced
1 1/2 cup whole milk
1/3 cup white whole wheat flour
3 eggs
1/4 tsp almond extract
1/2 tsp salt
1) Heat oven to 350 degrees. Butter and sprinkle sugar in 8×11 rectangular baking dish or large oval baking dish.
2) Toss rhubarb with 1/4 cup brown sugar in baking dish. Bake until rhubarb begins to soften, 20-30 minutes. If rhubarb is not in single layer, stir partway through baking. Leave oven on.
3) Meanwhile, blend milk, flour, eggs, 1/2 cup brown sugar, salt, and almond extract in blender until smooth.
4) Pour over rhubarb, and bake until just set. Time will depend on the size of your dish and how thick the custard is, 25-35 minutes.