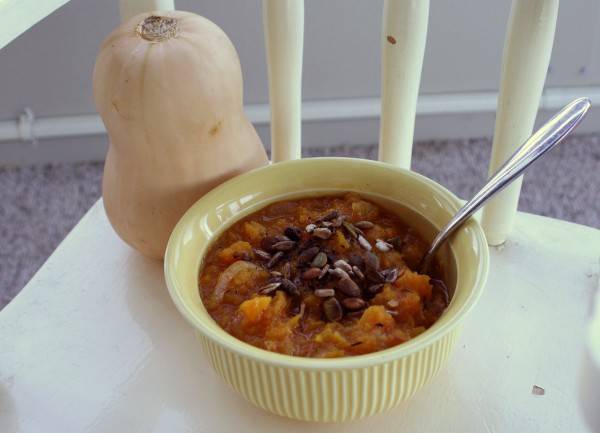 Roasted butternut squash and apple soup = autumn in a bowl.
The soup parade continues–I can't get enough of it during the colder months. So easy, so delicious, and usually very nutritious. There just isn't a down-side.
In this particular soup, roasted homegrown butternut squash meets local apples and sautéed sweet onions. Set it all off with crunchy sunflower and pumpkin seeds, tossed with cumin and chili powder–this was a perfect warm dinner after a busy day cleaning up the garden. Good bread and a green salad completed the meal. This was fast, and had major kid-appeal (sweet and vividly colored). You could do the roasting earlier in the day, and finish up the soup just before the dinner hour.
There are lots of squash and apple soup recipes out there, but most are pureed silky-smooth. I prefer a more casual 'mashed' texture, plus, it's easier and faster.
Roasted Butternut and Apple Soup
1 large butternut squash, peeled, seeded, and diced
3 apples, peeled, cored, and diced (sweet variety, I used Paula Red)
a few tablespoons of olive oil
pinch of kosher salt
1 tsp of dried thyme
additional olive oil for sautéeing
1 medium sweet onion
3 cups vegetable stock
1) Toss squash and apples with enough olive oil to coat, stir in salt and thyme. Roast at 375 degrees until tender, about 25 minutes, stir halfway through cooking time.
2) Sauté onions in olive oil until very soft.
3) Add vegetable stock to onions, bring to a boil, then turn down to a simmer. Stir in roasted squash and apple. Mash with potato masher until desired texture is reached. Simmer a few minutes until thick and bubbly. Taste, and add salt if needed. Garnish with roasted seeds for added crunch.
Chili Cumin Seeds
1/4 cup raw sunflower seeds
1/4 cup raw pumpkin seeds
1 tsp cumin
1/2 tsp ground red chili
pinch kosher salt
1) Add all ingredients to dry skillet over medium-high heat. Toss until seeds are warm and fragrant (3-5 minutes.) Sprinkle on top of soup just before serving.