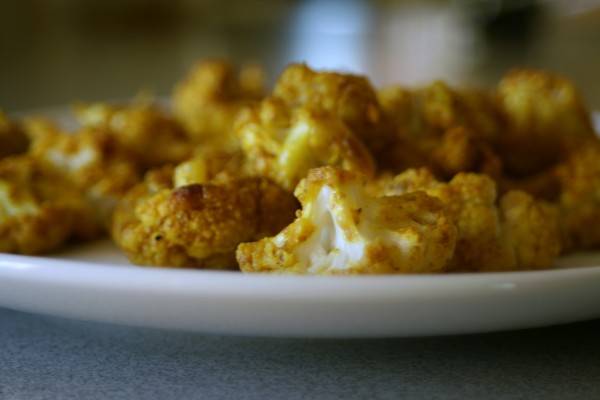 Cauliflower is a popular vegetable for being unpopular, and I'm not sure why. It's not green, it's rather sweet, and similar to zucchini, willingly takes on the flavor of any accompaniments.
My husband was a proclaimed hater until we began feeding pureed cauliflower to our first baby. He gave it a taste, and decided that it was actually rather good. Sort of sweet and nutty. I couldn't agree more. My only complaint is that it is kind of a pain to cut up, but I'll gladly pay that price The taste and outstanding nutritional profile outweigh unwieldy chopping.
Curry and cauliflower are made to go together. Add a little fat for richness, some honey and mustard for dimension, and you have a dish that comes together in minutes and roasts while you're pulling together the rest of your dinner.
Roasted Curried Cauliflower
1/4 cup mayonnaise
1 tablespoon curry powder (I used Penzey's Sweet Curry)
1 tablespoon honey
1 teaspoon dijon mustard
1/2 teaspoon coarse salt
1 head cauliflower
Whisk together mayo, curry, honey, mustard, and salt in a medium bowl. Break cauliflower into small florets, and add to curry sauce. Toss to coat. Spread in single layer on a baking sheet lined with parchment or a silicon mat. Preheat oven to 450 degrees. Roast until tender and golden-brown in spots, 20-30 minutes. Stir halfway through.