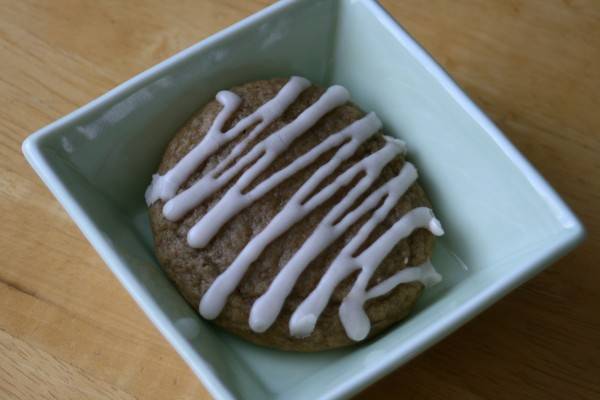 Root beer floats are such a nostalgic dessert – you can't help but feel young when spooning vanilla ice cream and icy cold root beer from a tall glass. And they must be made properly: you put the ice cream in first, then pour the root beer, and then let it sit for a few minutes until the ice cream develops a lovely root beer 'crust'.
Trying to capture this essence in a cookie was challenging, because I've never found a root beer extract that I enjoy. Most taste like melted down root beer barrel candies, and I do not care for root beer barrel candies.
That said, the nature of root beer is difficult to describe, and each soda recipe is unique. Notes of vanilla, honey, sassafras, and wintergreen can play a role, but more often the appeal is a mystery. Use your favorite for this recipe.
I have several gourmet root beers that I enjoy (Thomas Kemper, Sprecher's, and the Great Dane's – a local brewery), so I decided to revert one of my favorites back to syrup-form in order to create my own extract. I chose Sprecher's, and boiled it down by about 3/4. It didn't become very thick, but it did have a syrupy quality. And I should tell you, the aroma was heavenly. If I didn't believe in aromatherapy before making this cookie, I do now. I was in a spectacular mood all day.
Enjoy with a drizzle of icing (recipe below), or even better, sandwich two cookies around some vanilla ice cream, wrap and freeze for an incredible ice cream sandwich.
Root Beer Float Cookies
12 T unsalted butter
16 oz root beer
1 3/4 cup dark brown sugar
1/2 tsp salt
2 eggs
13 oz all purpose flour (just short of 3 cups)
1/2 tsp baking soda
1/4 tsp baking powder
1) In a saucepan, pour in 16 oz of your favorite root beer. (I used Sprecher's). Bring to a boil on medium-high, and reduce to about 1/2 cup. This can take 15-20 minutes.
2) Melt 10 T butter in medium saucepan – cook 3-5 minutes on medium until golden brown. Keep swirling so it doesn't burn. Remove from heat, stir in additional 2 T butter.
3) Stir in brown sugar, salt, and  4 T of your root beer concentrate. Let cool, then beat in 2 eggs.
4) In separate bowl, whisk together flour, baking soda, and baking powder.
5) Add sugar mixture to flour mixture, and mix until just combined.
6) The dough should be soft, but not runny (if it is, add a bit more flour). Chill for at least 30 minutes.
7) When ready to bake, preheat oven to 350 degrees. Grease or line a baking sheet with parchment paper. Roll dough into balls (the size of smallish golfballs), and place on sheet. Bake for 8-10 minutes. Cookies are much better under than over-baked.
Root Beer Icing
1 cup sifted powdered sugar
3 T root beer concentrate (if you don't have enough, splash in a little unconcentrated root beer)
Beat until smooth, apply to cookie