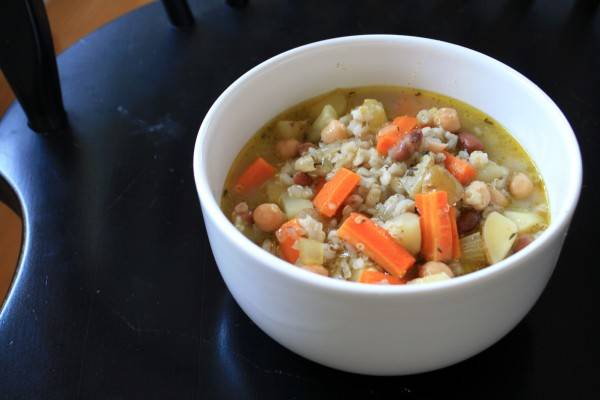 Another hot, nourishing stew to keep you warm at night. I think you could live off of this stew for weeks at a time and be in perfect health. Veggies, whole grain, and protein from the quinoa and beans make it delicous and super-nutritious. The rosemary garlic olive oil gives it a luxurious flavor and silky texture.
Several Bean Stew with Rosemary Garlic Oil
1/4 cup olive oil
1 tsp fresh rosemary, minced
3 cloves garlic, minced
2 medium onions, diced
1 lb potato, diced
2 carrots, diced
2 celery ribs, diced
1 tsp thyme
1 bay leaf
3 quarts chicken or vegetable stock
1 cup hulled barley
1 cup quinoa, rinsed
3 cans of beans, rinsed (I used cannelini, kidney, and chickpeas)
salt to taste
parmesan cheese rind (optional)
grated parmesan cheese for garnish (optional)
1) Heat oil over low in a small saucepan. Add rosemary and garlic, and gently warm until fragrant.
2) Transfer oil to heavy, large stockpot. Heat over medium-low, and add onions. Cook onions until very soft, 7-9 minutes. Add potatoes, carrots, celery, thyme, bayleaf, and some salt. Cook until vegetables are getting tender, stirring often.
3) Add stock, barley, and parmesan rind (optional). Cook partially covered for 30 minutes, until barley is almost tender.
4) Add quinoa and beans. Cook until quinoa is tender and beans are heated through, about 15 minutes. Remove bayleaf and parmesan rind. Serve hot, with grated parmesan cheese.