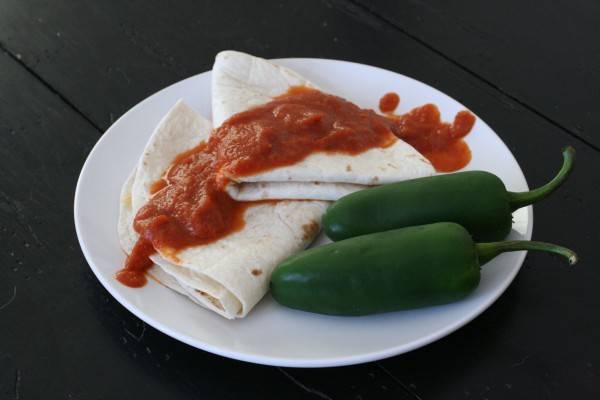 Ahh…enchilada sauce! I love enchiladas, but I  almost never make them at home. I was under the misconception that it was a lot of work (soaking dried chilies) and used ingredients not readily available to me. I'm sure this is very true for something uber-traditional, but this version is very tasty, and very fast.
You can make it even more quickly if you skip roasting the veggies (but you will sacrifice some smoky flavor that adds depth to the sauce.)
After making the sauce, I dipped my tortillas in it, filled them rice, beans, cheese and a bit more sauce, then rolled them tightly and fitted them into a baking dish all nice and snug. I poured more sauce over the top, and then sprinkled with cheese. Bake in a 350 degree oven for about 20 minutes.
The photo above is the lunch we whipped up the next day. I made a simple cheese quesadilla, and spooned the sauce on top.
Smoky Red Enchilada Sauce
2 jalapeños, tops cut off and split in half, seeds and ribs removed (leave in for a hotter sauce)
3 cloves of garlic, peeled
1/2 large onion, cut into chunks
1 T vegetable oil to drizzle on vegetables
1 28 oz can whole peeled tomatoes, with juice
Additional 1 T vegetable oil, for simmering sauce
1 T honey
1 T white vinegar
salt and pepper to taste
1. Turn broiler on high, and move oven rack to highest position. Place peppers, garlic, and onion on cookie sheet with sides. Toss with 1 T vegetable oil, and broil for about 10 minutes, until black charred spots appear.
2. Whir roasted veggies and tomatoes in blender or food processor until very smooth.
3. Heat additional tablespoon of oil in large saucepan. Pour in sauce and bring it to a simmer. Cook for about ten minutes until thick, stirring frequently. Add honey, vinegar, and salt and pepper to taste.