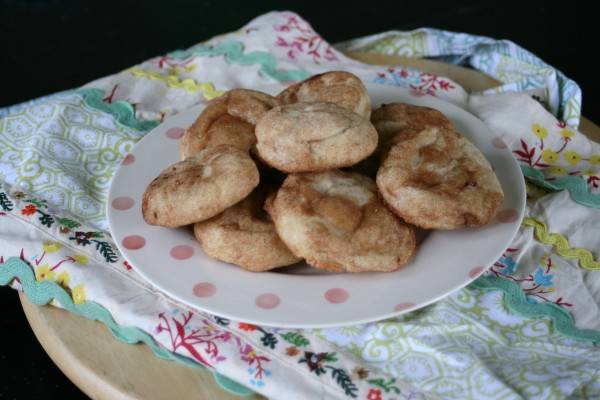 Mmmm…snickerdoodles. Any cookie with a name this fun has to be good. They are very comforting – sweet and soft, with a good dose of cinnamon flavor.
Growing up, my dad made most of the memorable desserts for our family, but this is one cookie that I remember my mother making. They are exceptional after a bad day at school, with a nice glass of milk.
Snickerdoodles, from Lee Bailey's Country Desserts
2 1/4 cups flour
2 tsp cream of tartar
1 tsp baking soda
1/4 tsp salt
2 sticks unsalted butter, softened
1 1/2 cups sugar, plus 1/4 cup sugar mixed with 1 T cinnamon
2 eggs
1) Whisk together flour, cream of tartar, soda, and salt.
2) In separate bowl or stand mixer, cream together butter and 1 1/2 cups sugar until light and fluffy. Add in eggs, mixing well after each addition.
3) Add the dry ingredients in four parts, mixing well after each addition. Cover and chill for at least an hour.
4) Preheat oven to 400 degrees. Roll dough into walnut-sized balls, and roll in cinnamon sugar mixture. Place two inches apart on greased or parchment-covered cookie sheet. Bake 8-10 minutes until cookies are done, but still soft. Let cool for a few minutes, then transfer to cooling rack.
And what exactly is cream of tartar? Potassium bitartrate, and it is a byproduct of winemaking. It's always found in snickerdoodle recipes. Baking soda needs an acid to activate it, and cream of tartar does the trick.