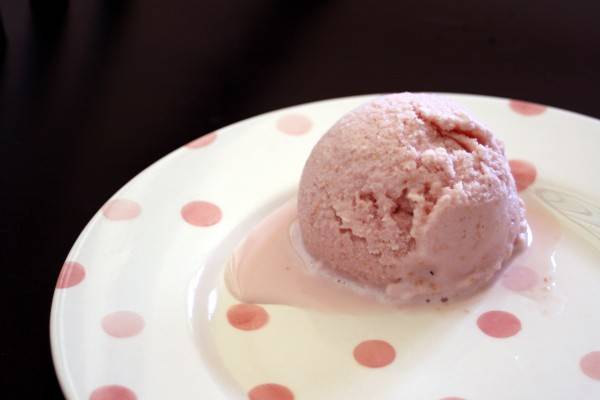 Sour cherry season has come…and gone. Truth be told, I almost missed it. I had big plans to go to the Dane County Farmer's Market to get a flat of sour cherries from Carandale Farm, but the cherries are only at the market for 2-3 weeks tops. AND I MISSED IT! Now that we live 45 minutes away, I'm not there nearly as often. With a new baby and an enthusiastic toddler, my hands are a bit full and the days just got away from me.
Luckily, a local produce store had sour cherries from Michigan. Not local, and a little bit more expensive – but they were pitted! I saved about 6 hours and my lower back with that. So now I have about 10 pounds of sour cherries filling up my freezer and I'm ready to get busy.  Honestly, we like them best plain and straight out of the freezer, but ice cream, ice pops, muffins, and pies are great too.
Let's kick it off with some tangy, buttermilk sour cherry ice cream! Again, inspired by the ladies at A Little Yumminess and our concurrent obsessions for ice cream this summer. Think chocolate-covered cherries, and try this with hot fudge.
Sour Cherry Ice Cream
4 cups buttermilk
2 cups sour cherries
1 14 oz can sweetened condensed milk
1/2 tsp almond extract
2 T sugar
1) Whir 2 cups buttermilk and sour cherries in blender until very smooth. Pour in bowl, and whisk in additional 2 cups buttermilk, condensed milk, almond extract and sugar.
2) Chill, and freeze in ice cream maker, following manufacturer's instructions.
Extra Extra: On Friday, check out my guest post on tarragon over at Burp: Where Food Happens. They are interesting, fun, and inspired by local seasonal foods – my kind of folks! They are also fellow Wisconsinites (out of Milwaukee), which is fantastic.
And coming soon…my first giveaway! Be sure to stop back early next week for a chance to win one of my favorite things!