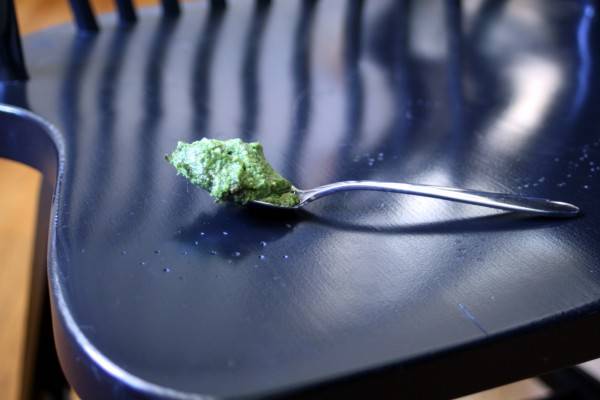 Don't you love it when you learn an incredible cooking tip? The kind that revolutionizes how you make something, is simple, and has great results? The tip I'm about to share with you is right up there with using parchment paper to get your loaded pizza onto your pizza stone.
I learned about it from The Purple Foodie, who learned about it from someone else, who originally got it from the folks at American's Test Kitchen (who else?) I've found, and I know you have too, that after I've picked a bunch of fresh basil and whirred it together with all sorts of yummy ingredients to make some delicious pesto, that I'm often a the tiniest bit disappointed with the results.
My pesto has a hint of bitterness. Not awful – in fact, it's subtle enough that I usually forget about it until I've picked another bunch of fresh basil, and whirred my blender, and am once again a little bit disappointed.
Apparently, olive oil is made up of polyphenols coated in fatty acids. When blended, the polyphenols lose their protective fatty acid coating, turning the mixture bitter. Sorry, that is a super-unscientific explanation. But the bottom line is, olive oil and your blender are not friends.
So, this makes the making of pesto ever-so-slightly more finicky, but it is worth it. You will never be disappointed again (at least not in your pesto.)
Basil Spinach Pesto
1 1/2 cups  basil
1 1/2 cups spinach
a few T of water, as needed for processing
1 garlic clove
1/2 cup pine nuts
1/2 cup parmesan
1/2 cup olive oil
salt to taste
1) Put basil, spinach, garlic, and pine nuts in your blender or food processor. Add just enough water to get it to blend smoothly.
2) Scrape into bowl, and stir in olive oil, parmesan cheese, and salt.
You can enjoy this on pasta, crostini, in a salad dressing, in soup, on a sandwich…you get the idea. If you have an abundance of basil, make a lot and freeze it in ice cube trays. Once frozen, pop out cubes and store in a bag in the freezer to melt into soup or pasta anytime year round.
Or, just put a big spoonful of the pretty green stuff on a dining room chair for all to admire, and hope no one sits on it.