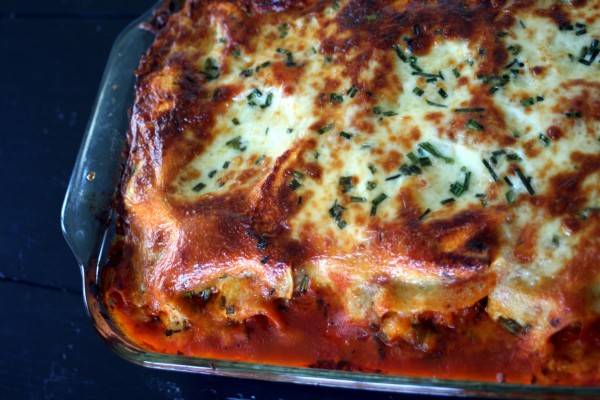 I realize that lasagna isn't a very 'springy dish', but if you throw enough springtime vegetables in, it counts, right?
I chose to make lasagna because 1) it's an easy dish to make in parts during naptimes (both my son's and mine) and  2) I'm planning on freezing the leftovers so that we will have something to eat when our new baby arrives in a few weeks. Also, anything that I can throw asparagus in is great, as we have a patch the length of a garage at our new house. Expect to see lots of asparagus recipes coming soon…
Springtime Lasagna
20 oz sweet Italian sausage, casings removed
1 diced red onion
generous pinches of oregano, red pepper flakes, and basil
salt and pepper
1 bunch spinach, chopped
1 lb asparagus, sliced very thin on the diagonal
45 oz ricotta cheese
1/2 cup fresh chopped chives
1 jar marinara sauce
3 cups mozzarella cheese
1 box lasagna noodles (I like Barilla no-boil noodles)
1) Crumble sausage in large skillet, add onion, oregano, crushed red pepper, and basil. Cook until sausage is no longer pink, and onion is soft. Add salt and pepper to taste.
2) Turn off heat, and add chopped spinach. Stir until slightly wilted. Add asparagus, ricotta, and about 2/3 of chives (reserve the rest for topping). Stir until well combined.
3) In a 9×13 pan, spread about 1 cup of sauce on the bottom. Lay out first layer of noodles, 1/3 of ricotta/sausage mixture, and 1 cup mozzarella.
4) Add next layer of noodles, next 1/3 of ricotta, and another cup of sauce.
5) Add third layer of noodles and the last 1/3 of ricotta.
6) Top with last of your noodles, and add all remaining sauce. If using no boil noodles, make sure all top noodles are well-coated with sauce. Top with last two cups of mozzarella, and sprinkle with remaining chives.
7) Cook in a preheated oven at 375 degrees, for 45 minutes with foil. Remove foil, and cook for 15-20 minutes longer, until cheese is bubbly. Let sit for at least 15 minutes before cutting and serving.