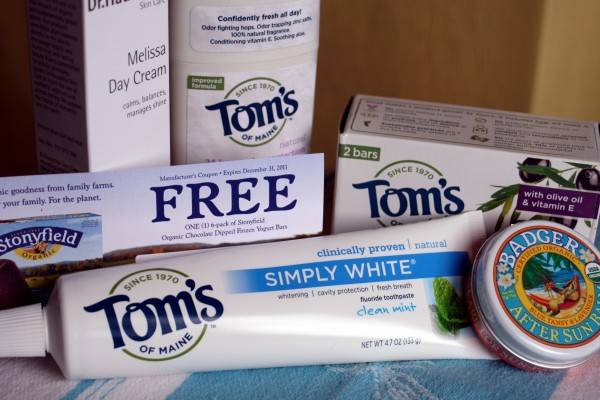 Update: Congratulations Betsy! You've won the 'Summer in a Box'! Please email me your mailing address. Betsy said: "Organic means to me is eating from our garden so we know how they have been grown." I love that! I'm off to craft you a post on quick pickles!
Summer is here, in all of its hot, humid glory.
Our garden, despite a staggering amount of weeds, is producing nicely. Our wading pool (clothing optional if you're under 36 inches tall) is in frequent use. And the thunderstorms! Amazing–there's nothing like a midsummer Midwest thunderstorm. You can see and feel it coming from miles away. The low rumbling of thunder, the distant flash of lightning, and finally the wind picks up and the torrent starts. Enjoy it all–the kids will be back at school and the leaves falling before we know it.
Make your summer even more enjoyable with a fun giveaway from Stonyfield Farm. The folks at Stonyfield kindly sent me this lovely 'Summer in a Box' gift, and they're going to send one to one of you, too.
Check out this swag! Full-size products: Tom's of Maine toothpaste, long-lasting deodorant, soap, Badger Balm after sun balm, Dr. Hauschka Melissa Day Cream, two coupons for Stoneyfield Farm's new frozen yogurt pops, and a coupon for a free bottle of Uncle Matt's organic juice. Yum.
So far, I've enjoyed everything, especially the Melissa Day Cream. It's light, but moisturizes well, and has a delicious lemon scent. The Badger Balm is rich and simple, and would sooth any itchy irritated spots (not just sunburn). I've used the Tom's of Maine deodorant before — this one said 'improved formula', and I have found that to be true. Traditional deodorant irritates my skin, so I'm always on the lookout for a natural deodorant that can take the heat.
Here's some more info on the products:
Two coupons for Stonyfield Frozen Yogurt Bars in two delicious flavors: Gotta Have Vanilla, and After Dark Chocolate.  These bars, made with organic milk, are dipped in rich dark chocolate, and contain four live and active cultures, keeping you healthy while enjoying a sweet treat.
Badger After-Sun Balm: A certified organic treat for sun-parched skin. Made with moisturizing plant butters and infused with soothing Blue Tansy and Lavender to make your skin feel smooth and leave you feeling calm.
Dr. Hauschka Melissa Day Cream: This new 100% natural moisturizer is perfect for combination skin.  Formulated with extracts of melissa (lemon balm), it smells like fresh squeezed lemonade.  Additionally, extracts of anthyllis, carrot, witch hazel and English daisy soothe, soften and even the complexion so shine is controlled and skin is moisturized.
Tom's of Maine:  Simply White, the first and only clinically proven natural whitening toothpaste to earn an ADA seal, helps bring back the natural beauty of your smile.  The Daily Moisture Body Bar has an ultra-rich bar soap formula that contains premium moisturizing olive oil, natural vitamin E and leaves your skin clean and fresh. Beautiful Earth Deodorant works to inhibit the growth of odor-causing bacteria and its natural, refreshing fragrance helps mask odor.
Uncle Matt's Organic Lemonade and Juices: By buying Uncle Matt's fresh fruit and juice you're helping more than 20 small growers that make up their family of farms. That's one of the reasons they're proud to be family owned and organically grown. Use this free coupon to pick up your choice of organic juice or lemonade and quench your thirst for summer!
You have until midnight Wednesday, August 3rd to leave a comment. Tell me what organic means to you. I'll randomly select one winner.
Me? While I think the best policy is to shop locally and get to know producers when you can, this isn't always possible. I like that organic is a well-defined term that I can count on. Feeding my family milk, meat, and produce that is free of pesticides, hormones, and anti-biotics is important to me, and lightens our footprint here on earth.
While I received this gift free-of-charge, my opinions are my own.