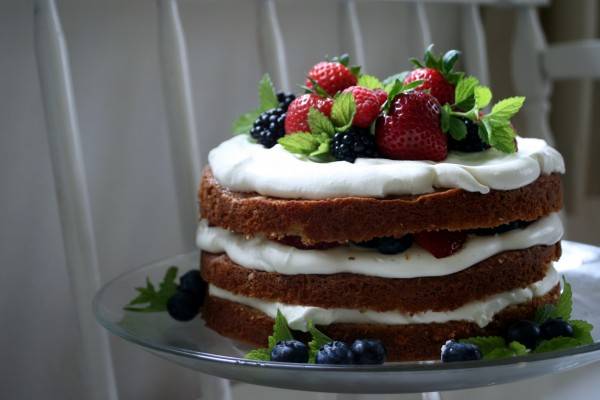 My first baby turned three at the end of June. I recently heard a saying 'the days are long, but the years are short', and that couldn't be more true.
I'm working on creating some memorable traditions for my boys. A simple one we've practiced for my son's past two birthdays is the Picking of the Birthday Treat. My son pulls out a selection of  cookbooks, and flips the pages, studying each treat until he finds one that tickles his fancy.  I have to say, he's got a good eye. Last year, whoopie pies, this year, a layered berry cake. Slices of delicious vanilla cake, slathered with freshly whipped cream and the ripest, prettiest berries you can imagine.
I made the cake the night before, and the first one turned out–terrible. As much as I love Martha, sometimes her recipes let me down. I don't think the recipe was well-written or tested, and I also got into trouble because I used farm eggs, which aren't sized. The result was a dense, eggy flop.
At 11:00 pm the night before the party, I started cake number two. I used Ina Garten's Country Cake from Barefoot Contessa Parties, and it turned out MUCH better. Although I was up ridiculously late by the time the cake baked, cooled, and was put away. On the morning of the party, my beautiful mother assembled everything into a beautiful cake.
Summer Berry Birthday Cake
for the cake (Ina Garten's Country Cake, slightly adapted–she added lemon and orange zest, and used sour cream)
makes two 8 inch cakes, I sliced them both in half and used three of the layers (the last was enjoyed with leftover berries for breakfast)
3/4 cup unsalted butter, softened
2 cups sugar
4 extra-large eggs, at room temperature
3/4 cup plain full fat yogurt
1 tsp vanilla extract
2 cups flour
1/4 cup cornstarch
1/2 tsp coarse salt
1 tsp baking soda
for the whipped cream
1 pint heavy cream
1 vanilla bean
1-3 tablespoons of powdered sugar
1 quart of mixed summer berries, ripe and ready to eat
1) Preheat the oven to 350 degrees. Take two eight inch cake pans. Butter, flour, line with a circle of parchment on the bottom, and flour again. (I've had too many cakes get stuck to take any chances here.)
2) Cream butter and sugar on high until light and fluffy. Add in eggs one at a time, yogurt, and then vanilla, mixing well after each addition.
3) Sift flour, cornstarch, salt, and baking soda together in separate bowl. Slowly add dry ingredients to butter/sugar, and mix until smooth.
4) Pour batter evenly into two cake pans, and smooth top with a spatula. Bake for 35-45 minutes, until a tester stuck in the middle comes out clean. Let cool in pan for 30 minutes, then slide a knife around the edge and tip onto a cooling rack. Cooled cakes can be wrapped tightly and kept overnight.
5) When ready to assemble, pour chilled cream into a chilled bowl and whip until soft peaks form. Split your vanilla bean, and use the side of your knife to scrape out the seeds. Add the seeds and 1 T of sugar to whipped cream and mix briefly. Taste, and add more sugar if desired. (By the time your done adding things, the cream should form firm peaks.)
6) Use a long serrated knife to split each cake into two even layers. Place one layer, cut side up, on your cake platter. Spread 1/3 of the whipped cream on it, and sprinkle with 1/4 berries. Place a second layer on top, cut side up. Spread with 1/3 of the whipped cream and another 1/4 of the berries. Add third layer, cut side down. Prettily spread the remaining cream, and artfully decorate with the remaining berries. It helps to have an artistic mom around for this part. Fresh mint or lemon balm leaves add a lovely touch of green.
Stick in the candles, and sing your heart out! (Forks optional)