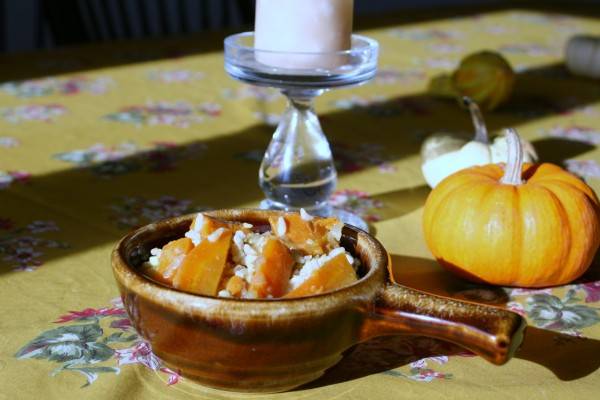 The guests are gone, the house is re-assembled, and our bellies and fridge are FULL. As much as I love Thanksgiving, its aftermath leaves me feeling a bit  sluggish. A lot of rich foods, and a lot of energy expended to cook them–I need a nap and a big green smoothie.
Last night we all needed a change – something healthy and different (but still incorporating leftovers.) Curry was the answer – this is an especially good way to use up some of that flavorful dark meat.
This recipe is flexible – if you already have a favorite curry recipe, please use it (and share). You can add whatever vegetables you have lying around (or throw in leftover roasted ones from your holiday meal), and this dish can be made as spicy as you like.
Turkey Curry
Vegetable oil for cooking
1 medium onion, diced
2 cloves of garlic, minced
1 jalapeño, minced (optional, discard the seeds if you want it milder)
1/2 inch ginger root, finely grated
1-2 T curry powder
1/2 tsp garam masala
pinch of salt
1 T honey
1 can light coconut milk
1 T soy sauce
1 T tomato paste
2 carrots, cut into chunks
2 sweet potatoes, peeled and cut into chunks
1 1/2 cups turkey meat, shredded or diced
salt and pepper to taste
brown rice for serving
1) Heat pan, add vegetable oil to coat. When oil shimmers, add onions. Sauté onions until beginning to soften. Add garlic, jalapeño, ginger, curry powder, garam masala. Cook over medium heat until fragrant and onions are completely soft. Add honey, and stir to coat.
2) Add coconut milk, soy sauce and tomato paste. Stir until combined. Add carrots, sweet potatoes, and turkey. Bring to boil, and then reduce to a simmer. Cover and cook until carrots and potatoes are tender, and flavors have come together (about 20 minutes.) Add salt and pepper to taste. Serve over rice with a squirt of sriracha, if you want additional heat.