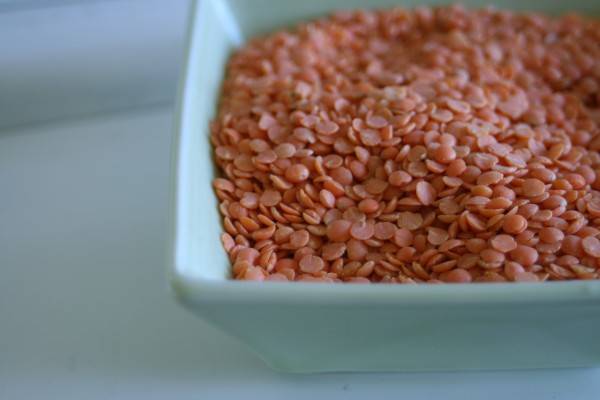 This was devoured before I could take a photo of the finished soup–on three separate occasions. This one is popular with everyone in my family, from husband down to infant. There aren't many meals with such mass appeal.
It is very flavorful, but not spicy (you could easily spice it up before by not seeding the jalapeno, or using a hotter chile, or do what I do and just add a healthy dash of sriracha just before downing.) It is great for those folks who claim not to like lentils, as the red ones cook up into a lovely golden mush. And it is stellar served with warm pita bread–and if you're feeling extra hungry, a fried egg on top.
Lentils do not need to be soaked overnight, just a quick sort to make sure there aren't any small pebbly bits mixed in. If you have 2-3 cups of cooked rice on hand, the soup can be cooked up in just under 25 minutes.
Red Lentil Soup
2 T vegetable oil
1 T butter
4 cloves garlic, smashed and chopped
2 stalks celery, diced
4 medium carrots, diced
1 jalapeno, seeds and ribbed removed, minced
1 tsp cumin
1/2 tsp coriander
1/2 tsp garam masala
1 T tomato paste
1/2 tsp salt
10 cups vegetable stock (I use vegetable boullion) (reduce to 8 cups if using cooked rice)
1 cup uncooked brown rice, or 3 cups cooked
3 cups red lentils
1) Warm oil and melt butter in large soup pot over medium-low heat. Add garlic, and cook for a minute until it becomes fragrant. Add celery, carrot, and jalepeno. Stir and cook until veggies begin to soften, 3-5 minutes. Add cumin, coriander, garam masala, tomato paste and salt. Stir and cook until very soft, 7-10 additional minutes.
2) Add stock and rice. If using uncooked rice, bring to a boil, then lower to a simmer and cook for 30-40 minutes, until rice is almost done. Add lentils, and cook an additional 10 minutes until lentils are soft and falling apart. Taste, and add more salt if needed. If using cooked rice, add it and lentils at the same time. Bring to a boil, then reduce to a simmer and cook for 10 minutes until lentils are done.
Stores in fridge for several days, although you may need to add additional stock or water to thin it a bit before warming.