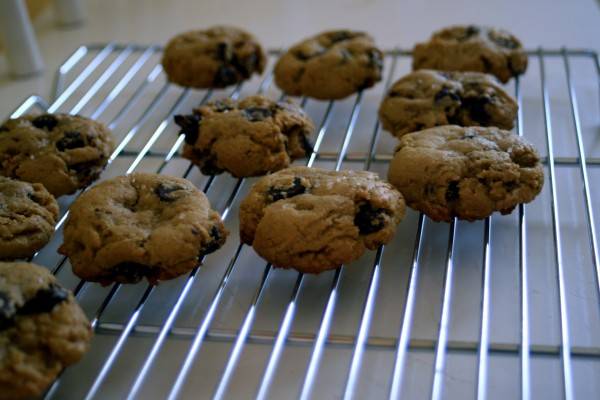 Let's not kid ourselves. Chocolate chip cookies, even whole wheat ones, are not a health food. However, whole wheat flour has three times the fiber and additional protein, so maybe you can enjoy an additional cookie, with a smidgen less guilt. Although personally, I don't think anyone should feel guilty eating a chocolate chip cookie.
Now eating uncooked dough for breakfast, that is a different matter all together.
This recipe is a twist on one from Jennie at In Jennie's Kitchen. Jennie is a talented writer and cook, and has been at this cooking blog thing for a long time. Her family recently suffered the untimely loss of Mikey, her husband. Jennie has courageously and beautifully documented her family's journey through this turbulent and emotional time. I encourage you to pay her blog a visit both for the touching stories, and the delicious, creative recipes.
And now back to cookies: soul-soothers in dessert form. I love Jennie's twist of adding molasses to this recipe. The link for her whole wheat chocolate chip cookies includes information on her original chocolate chip cookie recipe, which looks to be worth a try.
Enjoy! Your family and friends will not guess these contain whole wheat flour.
Whole Wheat Chocolate Chip Cookies
adapted from In Jennie's Kitchen
1 cup unsalted butter (2 sticks), room temperature
2 cups brown sugar
3 eggs
2 teaspoons pure vanilla extract
2 tablespoons mild molasses 
2 cups whole wheat pastry flour
2 cups bread flour
1 teaspoon baking soda
1 teaspoon baking powder
1 1/2 teaspoons coarse salt (plus additional for sprinkling)
12 ounces semi-sweet chocolate chips
Beat butter and brown sugar until very light and fluffy, at least three minutes. Add in eggs one at a time, and continue beating until well-incorporated. Add in vanilla and molasses, and give one final beating until everything is light and beautiful and the loveliest shade of caramel.
In a separate bowl, whisk together both flours, baking soda, baking powder, and salt.
Add flour mixture to butter mixture, and mix until streaks of flour just disappear. Fold in chocolate chips.
For best results, cover and let dough rest in refrigerator for at least 24 hours, up to 72. If you can't stand it, start preheating your oven right now at 350 degrees.
Drop cookies onto a lined baking sheet, and bake for 10-15 minutes, depending upon your oven's temperament and the size of your cookies. Cookies should be removed from oven when they appear just cooked (but still doughy) in center, and the bottoms are just turning golden brown.
Transfer cooked cookies to a cooling rack after 2-3 minutes.