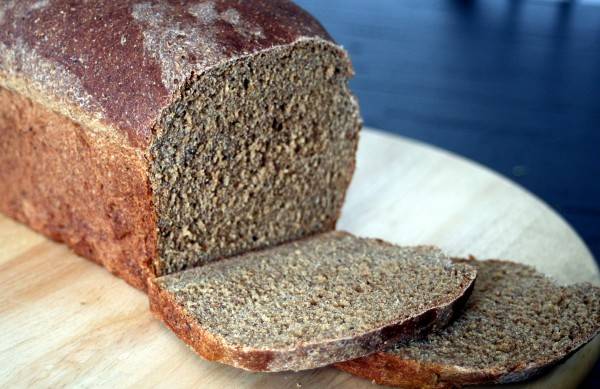 Due to our proximity to the nearest grocery store (really far away), the rate at which my husband burns through a loaf of bread (rapidly), and the expense of the fancy whole wheat bread that I like, I've been experimenting with making my own sandwich bread.
It's easy to be intimidated by anything that involves yeast, kneading, and rising. However, if you're lucky enough to have a stand mixer, it really is a snap. If you don't have a stand mixer, it's still a wonderful experience, it just takes a bit more time and muscle to knead the bread with your own hands.
I tried many variations, and experimented with different flours, grains, and add-ins. While all of them tasted good, the texture is important for a daily use bread. I wanted a loaf that was soft, but still held together, full of whole grains, but not overly dense. I didn't want eating my morning toast to be a workout.
Here's my favorite recipe so far:
Whole Wheat Sandwich Bread
Yields two loaves

1/4 cup warm water
1 tsp sugar
1 envelope active dry yeast
1 1/2 cups warm water
1 1/4 cups warm milk
1/4 cup molasses
3 T vegetable oil
2 tsp salt
1 cup wheat germ
1/2 cup ground flax seed
3 cups whole wheat flour
3 cups bread flour
1) Dissolve sugar in 1/4 cup warm water (approx 110 degrees – it should feel like a nice bath), and stir in yeast. Let sit for a few minutes until foamy.
2) Warm additional 1 1/2 cups water and milk, pour in mixing bowl. Add molasses and oil.
3) Scoop in remaining dry ingredients: salt, wheat germ, flax seed, whole wheat flour and bread flour.
4) Mix on low in stand mixer with dough hook until everything is incorporated and dough begins to pull away from bowl. The dough should feel tacky, but still form a nice ball. If it doesn't, you may need to add additional flour – do this a few tablespoons at a time, as you don't want to add too much flour.
5) When dough is the right consistency, let the mixer knead it for about 10 minutes, until is is smooth and elastic. Alternatively, slap the dough onto your clean, floured counter top, and knead it until the dough feels good, and you feel like you've gotten a good workout.
6) Put your lovely mound of dough into a large, oiled bowl. Cover with plastic wrap and let rise in a warm, draft-free place. (I typically turn my oven on low for a few minutes while mixing up the dough, then turn it off. This is a nice and cozy place for my dough to rise.) Let rise for at least an hour, but you can leave it for several if you have other things going on.
7) Punch down your dough and divide it in half. Shape each half into a nice, oblong loaf and tuck into two oiled loaf pans. Cover with a clean dishtowel, and let rise for another 20-30 minutes. Meanwhile, preheat your oven to 375 degrees.
8) Bake for 40 minutes until golden, and loaf sounds hollow when thumped. Let cool in loaf pans for about 10 minutes, then slide onto a cooling rack. Try not to cut it until it is completely cool.
Notes: you can substitute honey for the molasses if you like. Molasses has a distinct flavor that not everyone enjoys, but it also gives the bread a gorgeous caramel color. This bread makes incredible grilled cheese and egg salad sandwiches.