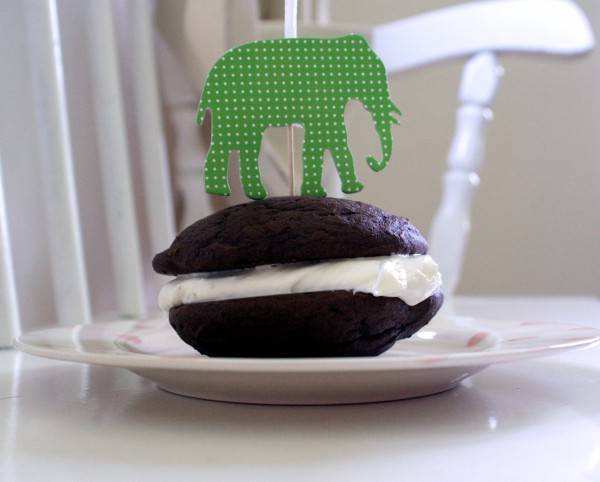 My darling son recently turned 2. He was thrilled about his upcoming birthday, and the impending gifts, food, and grandparents. He loves to look through my cookbooks, so I let him pick out his own birthday treat. I thought he'd go for a cake, but he was more innovative than that – whoopie pies!
Now these are not as familiar as I imagined, so in case you haven't had the privilege of eating one, it's essentially a chocolate cake-like cookie, with a lovely vanilla buttercream/marshmallow fluff filling. Absolutely perfect for a kid's birthday – and bonus, you can make the cookies, the filling, or the entire assemblage up to three days ahead and store them in the fridge. They actually are better served cold, as the filling sets up nicely after a few hours of chilling.
These were perfectly set off with strawberry buttermilk ice cream, from A Little Yumminess. This is an easy and delicious ice cream recipe, and can be adapted for many different fruit flavors.
Whoopie Pies from Cook's Country America's Best Lost Recipes
makes 6 pies
Cakes
2 cups flour
1/2 cup Dutch process cocoa
1 tsp baking soda
1/2 tsp salt
8 T unsalted butter, room temperature
1 cup brown sugar
1 egg
1 tsp vanilla
1 cup buttermilk
1 tsp vanilla extract
Filling
12 T unsalted butter, room temperature
1 1/4 cups powdered sugar
1 1/2 tsp vanilla extract
1/8 tsp salt
2 1/2 cups marshmallow fluff
1) Cakes: Preheat oven to 350 degrees. Line two baking sheets with parchment or a silicone baking sheets.
2) Whisk flour, cocoa, baking soda, and salt together.
3) With a mixer, beat butter and sugar until fluffy. Mix in egg and vanilla. Mix in flour mixture and buttermilk alternately in two batches.
4) Scoop 1/3 cup batter onto baking sheets, 6 per sheet. Bake until cakes spring back when touched, 15-18 minutes. Cool cakes on baking sheet for at least an hour.
5) Filling: Beat butter and powdered sugar together until fluffy. Beat in vanilla and salt, and then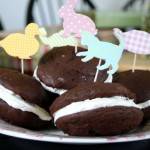 mix in marshmallow fluff until completely mixed. Chill for at least 30 minutes before assembling pies.
6) Put about 1/3 cup of filling on the flat side of one cake, top with flat side of another cake and squish together. Repeat with remaining cakes, making 6 pies.