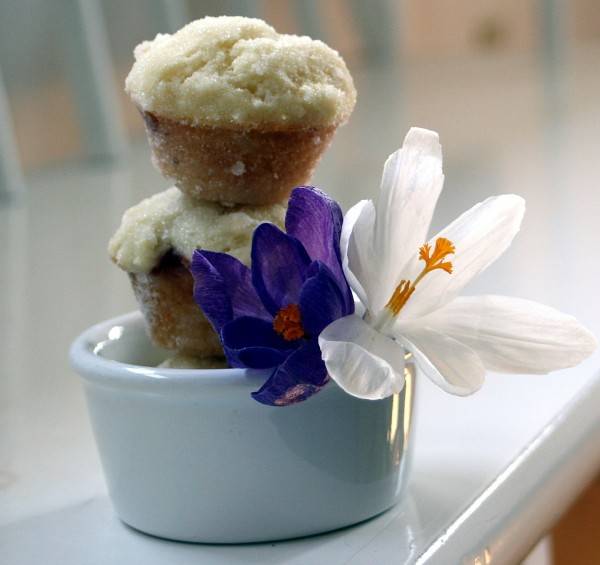 We had friends over for brunch today that we hadn't seen in quite some time. They were kind enough to drive almost two hours to see us, so I felt compelled to give them a good meal. We ate, talked, and had a lovely morning.
Here was the menu:
Jam Doughnut Muffins
Tropical Frappés
Huevos Rancheros
I'll add links to the other recipes as soon as I get them posted over the next week.
But let's start with the pièce de résistance, Nigella Lawson's Jam Doughnut Muffins. These little pieces of heaven are from her book How to Be a Domestic Goddess: Baking and the Art of Comfort Cooking.
These 'muffins' are utterly decadent, and I could probably eat an entire batch myself. They are also extraordinarily easy. And my favorite part is that they actually elicited a genuine food compliment from my husband.
My husband is a wonderful, wonderful man, but he is one of those 'eat to live' types that consumes the same nutritive staples for both breakfast and lunch everyday, and it doesn't bother him one bit. If it fills his belly, and is sort of good for him, he's set. He'll eat most anything, but rarely does food bring him that eye-rolling, drop-to-our knees pleasure that some of us get from a great dish.
There's nothing wrong with this type of person, but they're not much fun to cook for. (That's why I entertain – and it may be why I had children.) But these little muffins caused my porridge-eating husband to exclaim "These are the best things I've ever eaten", so they will forever be in my repetoire.
Nigella Lawson's Jam Doughnut Muffins
1 1/3 cup self-rising flour
1/3 cup sugar
1/2 cup milk
7 T vegetable oil, plus more for greasing the pan
1 egg
1/2 tsp vanilla extract
12 tsp jam (I used strawberry)
1/2 cup unsalted butter
1/2 cup sugar
1) Preheat oven to 375 degrees. In bowl, whisk together flour and sugar.
2) Separately, whisk together milk, oil, egg, and vanilla.
3) Add milk mixture to flour, and stir gently until just combined. Don't get your britches in a bundle if it's still lumpy – if you mix too much, the muffins will turn out tough.
4) Grease a 12 cup mini-muffin pan with vegetable oil or butter. (I often have enough batter to fill my 12 cup mini-muffin pan, plus about 4 more – but these pans all have slightly different sized cups.)
5) Fill cup 1/3 full with batter, add teaspoon of jam. Fill rest of cup with batter.
6) Bake for about 15-20 minutes until muffins are puffed and just turning golden around the edges.
7) Now brace yourself – the first time you do this you will be telling yourself how wrong it is, but the results are so good, you will do it again. Melt 1/2 cup butter in small saucepan. Fill a shallow dish with granulated sugar.
8) When muffins are cooked and cooled just a bit, dip each one in melted butter, roll in sugar, and eat them one after another. Share with your husband if he thinks they are the best thing he's ever eaten, and he happens to walk in the room before you've finished them all. Don't share with your children – they're not good for them.
Notes: If you don't have self-rising flour, all it is is flour with salt and a leavening agent. For each cup of flour, add 1 1/2 tsp baking powder and 1/2 tsp salt. I'll let you do the math.
Since self-rising flour is salty, it is best to use unsalted butter for dipping, otherwise your end result may be a little too salty. (On the flipside, if you make your own self-rising flour and only have salted butter, just add less salt to the flour.)
Enjoy! And then enjoy the 3 mile post-muffin run you will feel compelled to take.