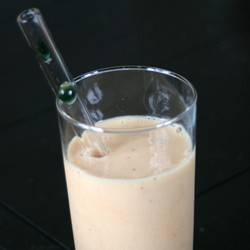 This is the beverage I served with my brunch last weekend. It was not quite as healthy as my usual green smoothies, but it was delicious and a lovely peach color. It was meant to be an upscale Orange Julius.
Notice the fabulous reusable glass straw – we're using a lot of straws in our household these days . Drinking anything is more fun with a straw. I found these beauties at Glass Dharma.
Tropical Frappé
Serves four adults and 1 toddler (although the toddler also drank 1/2 of another adult's serving, so plan accordingly)
1/2 can orange juice concentrate
2 cups milk
1/2 cup water
3 T sugar
1 tsp vanilla
1 cup frozen pineapple
1 cup frozen strawberries
Add everything to a blender, and whip until smooth. If you are using fresh instead of frozen fruit, then add a handful of ice cubes to get an icy finish.