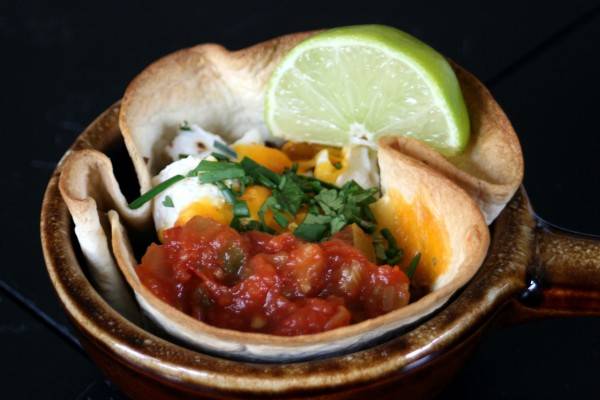 Chef Rick Bayless is coming to town the weekend of April 17th. I'm a big fan – and more on these goings on later, but in the meantime, I'm in a Mexican state of mind. Huevos Rancheros, presented in single-serving crocks, seemed like the right mix of elegant casual for our weekend brunch.
You can make this as easy or gourmet as you want to; there is a lot of inherent flexibility. You can make your own refried beans (I used organic vegetarian ones from a can, but I dressed them up a bit), you can make your own salsa (I used jarred), and you can do the eggs whatever style suits you (I poached, but fried or scrambled would still be delightful.) The only thing this dish was lacking was a diced up avocado.
This dish has several steps, but only one has to be done immediately before serving to guests, so you can prepare ahead.
Huevos Rancheros
Makes 4 single-sized servings
4 medium-sized tortillas
1 cup refried beans (my dressed up recipe below)
1/2 cup cheddar
1/2 cup salsa
4 poached eggs sprinkled with sea salt and ground chile
chopped cilantro and chives
1) Preheat oven to 425 degrees. Sprinkle four tortillas with water, and heat up in microwave for about 15 seconds, until soft and pliable. Brush one side with vegetable oil. Arrange each tortilla in a small bowl, oiled side facing up. Be careful not to tear them – you can usually get them in nicely with one or two pleats (see photo below).
2) Bake tortilla shells for 10-15 minutes, until beginning to turn light golden in spots, and toasted enough to hold 'bowl' shape. Reduce oven to 350 degrees.
3) Put 1/4 cup dollop of refried bean in each tortilla bowl.
4) Top with eggs and about 1/8 cup cheddar cheese.
5) Bake in oven 5-10 minutes, until cheese is melted and bubbly.
6) Sprinkle with chopped chives and cilantro, and diced avocado (if you have a nice ripe one, which I did not). Serve with salsa.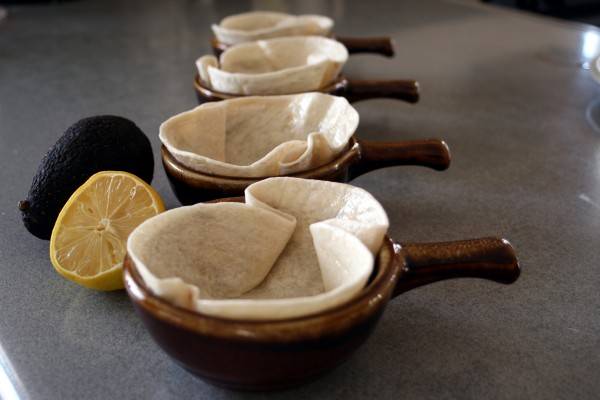 Notes: I used organic, vegetarian refried beans. I sauteed 1/2 small onion until translucent, added a few dashes of cumin, cayenne, and salt, then added 1 clove minced garlic and 1 minced jalepeno. I cooked everything until soft, then stirred this in with the beans, along with the juice from one lime. If you don't have a can of refried beans available, just mash up a cup of black or pinto beans and add ingredients above.
I love poached eggs, and I like them in this dish with a soft-set yolk. A fried egg will give you the same taste effect, but will not have the same cute little pod shape. Scrambled eggs will suffice if you prefer not to serve runny yolks. A tutorial on how to poach an egg, which can be a simple yet daunting task:
1)First, the fresher your eggs, the easier it will be to poach. A grocery store egg just doesn't poach up as nice, but it will still work.
2) Heat a large, shallow saute pan with about 4 inches of water (nonstick works well if you have it). Heat until it is almost boiling, but bubbles are not breaking the surface. Add in a generous glug of nice-tasting vinegar (this helps the whites coagulate quickly).
3) Crack the eggs carefully in a small bowl or ramekin, trying not to break the yolk. Fish out any shell pieces, then pour into simmering water, holding bowl very close to the surface.
4) After about 30 seconds, when the white starts to set, go in with a spoon and gently unstick it from the bottom, and gather any straying whites close to the yolk. After about 2 minutes, gently roll the egg over. Cook f0r 3 minutes for a very soft yolk, 5 minutes for a little more firmness.
5)Remove with a slotted spoon, and place on a plate lined with a paper towel to soak up moisture. Blot tops of eggs gently. These can be refrigerated for a couple of hours before using.