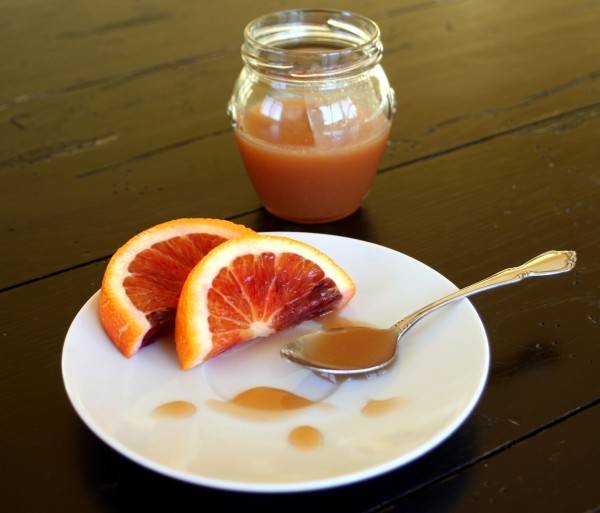 Homemade caramel sauce is brightened with blood orange juice and a hint of vanilla. This makes a coveted gift, a sweet drizzle on ice cream, or a chewy layer in a sandwich cookie. It's reminiscent of a Creamsicle.
Caramel is easy, but working with scalding hot sugar that could burn in the blink of an eye can be intimidating. If you keep a watchful eye, you won't have any problems. This recipe uses the 'wet method' of making caramel, which means you add water to the sugar initially. This is easier than the dry method, where you melt the sugar dry, and have an increased risk of burning.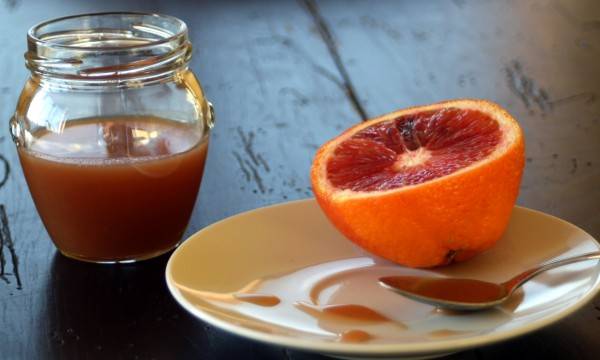 A few tips: if you are lucky enough to have an enameled cast iron pan with a light interior, it is wonderful for judging the color of caramel. If you are not so lucky, keep a light colored plate nearby. You can drip a bit of the sugar onto the plate to check the color.
If you don't trust your eye, use a candy thermometer to cook your mixture to a precise 350 degrees. (If you are unsure of the accuracy of your thermometer, test it in boiling water. It should read 212 degrees Farenheit.)
When you add the cool cream, the mixture will bubble and pop alarmingly, and the caramel will seize up, making you think you have failed gloriously. You haven't! Just keep all appendages away from the bubbling sugar, and keep stirring until everything smoothes out. If you are having trouble, turn the flame on low for just a minute while you stir to warm things up a bit.
If you can't find blood oranges, regular oranges are a fine substitute–although then you won't get to answer a slew of questions from your preschooler about why they're called blood oranges. Do they have blood in them? Do they taste like blood? Do they bleed when you cut them?
Don't be nervous! Get out your heaviest saucepan, a wooden spoon, and get everything measured and ready to go. Your reward will be sweet.
Blood Orange Caramel
makes about one pint
1/2 cup heavy cream
1/2 cup freshly squeezed blood orange juice (from 2-3 blood oranges)
1/2 teaspoon fine sea salt
1/2 teaspoon pure vanilla extract
1 1/2 cups sugar
1/3 cup water
Combine cream, blood orange juice, salt, and vanilla in a small bowl or glass measuring cup that is easy to pour from.
Scoop sugar and water into a medium-sized heavy-bottomed saucepan. Heat over medium-high heat and stir with a wooden spoon until sugar is dissolved and liquid is beginning to boil.
Hold off on stirring, and boil over medium heat  until caramel turns a deep amber, or a candy thermometer reaches 350 degrees. Quickly remove from heat, and pour in cream and juice slowly while stirring. It will foam and boil up, so be careful! Keep stirring until caramel is completely liquified.
Pour into a glass storage container and let cool for several hours, then refrigerate. Caramel will thicken as it cools. You can gently reheat it before using if desired.