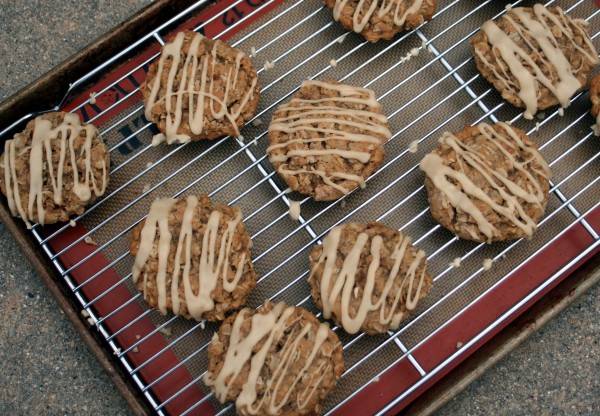 Let the baking begin! November is the kick-off to the official start of baking season.
Holiday cookies, Thanksgiving rolls, party appetizers, loaves of bread for nice neighbors…the list goes on an on. Soften your butter, get out the cinnamon and the mixer and start baking.
A freezer can be a baker's best friend, as most baked goods freeze beautifully.
You can have all of your holiday cookies mixed up by mid-December, and bake them when you need them.
It's tough to find something new under the sun when it comes to cookies. However, there are many, many delicious variations on a theme.
Below find a recipe for an amped up oatmeal cookie–deepened with the fragrance of browned butter and the rich taste of molasses. A drizzle of maple icing sweetens it up just enough.
It's from Anna Ginsberg's cookbook, The Daily Cookie. Ginsberg takes you through an entire of year of well-known and bizarre holidays, giving you a cookie recipe to commemorate each one.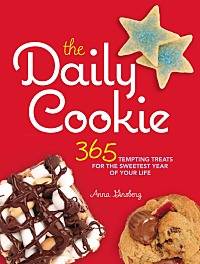 Make some Birdseed Bars to celebrate the first day of spring AND Big Bird's birthday (he needs a cookie after the campaign he's been through.) Or Cornflake and Peanut Brittle Cookies for National Tooth Fairy Day.
Learn about a few holidays you would never have dreamed existed–and find some new cookie recipes too. There are classic recipes in here (think Madeleines and hermit bars) along with some creative, new ones.
Despite the size of the book, it lays flat when opened (a huge bonus for me), and while it's not full of flashy photography, every recipe has a snapshot of the finished cookie.
And although the recipe order has no organization by type of cookie (since each is based on a different holiday), the book is very well indexed by type of cookie, batch size and ease of recipe.
My only complaint is a handful of recipes call for packaged cake mix or cookie dough. I realize this is a good short-cut if someone is pressed for time, but if you don't use these items, it is difficult to come up with substitutions–and some of these recipes sound really good!
Below find my adaptation of Ginsberg's Maple-Glazed Brown Butter Oat Cookies. Her recipe calls for maple-flavoring (which I didn't have) and pecans (which my littlest is allergic to). And if you like raisins in your cookies (which I absolutely do not), you should definitely stir in a cup.
Browned Butter Molasses Oat Cookies with Maple Icing
adapted from Anna Ginsberg's The Daily Cookie
For the cookies:
1 cup unsalted butter
1 1/2 cups all-purpose, unbleached flour
1 teaspoon baking soda
1/2 teaspoon salt
1 teaspoon ground cinnamon
2 1/2 cups old fashioned oats
2/3 cup packed brown sugar
2/3 cup sugar
2 eggs
1 teaspoon pure vanilla extract
1 tablespoon mild molasses
For the icing:
6 tablespoons unsalted butter
3 tablespoons packed brown sugar
3 tablespoons pure maple syrup
1/4 cup whole milk
2 cups powdered sugar
1/2 teaspoon pure vanilla extract
For the cookies:
Heat 1 cup butter in a medium saucepan over medium-low heat. Continue to cook, swirling the pan frequently, until butter is golden and fragrant. Remove from heat and set aside to cool for 10 minutes.
Meanwhile, in a medium bowl, whisk together flour, baking soda, salt, cinnamon and oats.
Add brown sugar and sugar to cooled browned butter. Whisk until smooth. Add eggs, vanilla and molasses and whisk until incorporated.
Add butter and sugar mixture to dry ingredients, and stir until combined. Chill dough for 30 minutes.
Preheat oven to 350 degrees. Drop walnut-sized balls onto a lined baking sheet and flatten slightly. Bake for 9-11 minutes until edges are golden brown. Remove from oven, let sit for a few minutes until set and then carefully move to a cooling rack. When cool, drizzle with maple icing.
For the icing:
In a small saucepan, melt butter over medium heat. Stir in brown sugar, maple syrup and milk, and bring to a boil for 30 seconds. Remove from heat and whisk in powdered sugar and vanilla. Whisk until smooth.
Drizzle icing over cooled cookies and let set up.