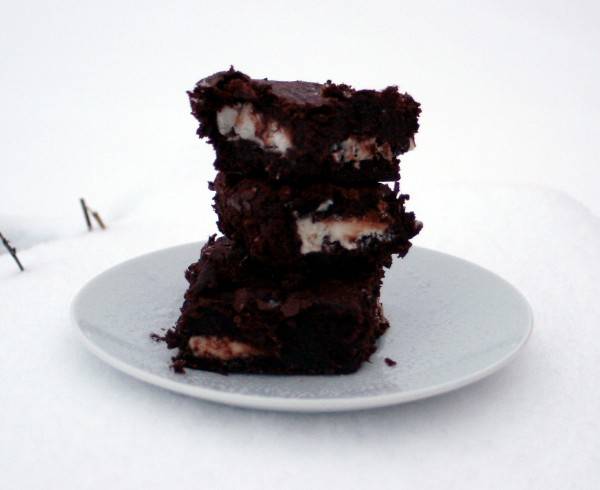 To make up for the fussy fudge I gave you yesterday, here is a very simple recipe–you only need a single pot!
The dark, fudgy  brownie is wrapped around a white peppermint center – a perfect combination if you adore mint.
Dark Chocolate Mint Brownies from Everyday Food December 2006
1 stick unsalted butter
8 oz bittersweet chocolate, chopped
1 cup sugar
3/4 tsp salt
3 eggs
1/2 cup flour
1/4 cup unsweetened cocoa powder
25 small peppermint patties
1) Preheat oven to 350 degrees and line an 8×8 baking dish with buttered foil or parchment, with overhang for easy removal and cutting.
2) Place chocolate and butter in a heavy saucepan (or double-boiler). Melt on low heat, stirring occasionally until smooth and combined.
3) Remove from heat. Whisk in sugar and salt, and then eggs. Gently whisk in flour and cocoa powder until just smooth.
4) Spread 1/3 of batter into pan, and then lay peppermint patties in a single layer over batter, with a narrow border on all sides. Top with remaining batter, and smooth so all candies are covered.
5) Bake 35-45 minutes until a toothpick inserted in middle comes out with moist crumbs attached. Cool on rack, and then remove from pan and cut into squares.