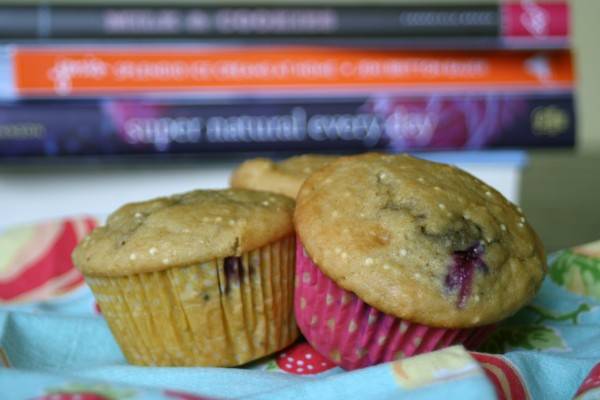 Blueberry season and my birthday! Two reasons why I love summer. Our bushes are laden with berries, and I got a few new cookbooks to celebrate my thirty-somethingth year.
I'll tell you more about the cookbooks as I work from them, but they are Milk and Cookies by Tina Casaceli, Jeni's Splendid Ice Creams at Home by Jeni Britton Bauer, and Heidi Swanson's Super Natural Every Day. I'm stoked. My first batch of ice cream was phenomenal, and I've made several dishes from Heidi's cookbook that I've enjoyed too. I've yet to try out the cookie book (primarily because I've been without a stove for a week – yikes), but I'm anxious to do so, because the reviews were mixed on Amazon, and I'd like to see for myself.
Super Natural Every Day has lovely photographs, and many, many recipes I could see making regularly. There is a bit of everything: breakfast, dinner, lunch, snacks, and treats. My only complaint is that because it's a paperback and it's on the smaller side, it does not stay open on its own, or even with something heavy on one side. You really do need one of those cookbook holder things to keep the book open, or alternatively a patient small child to hold the book open for you.
Onto the muffin! Muffins are a near-perfect food. They are quick to mix up, you can add in lots of healthy stuff, and they can be served for any meal of the day, or dessert, without getting a second look. This muffin is made with whole wheat flour, millet, and blueberries. The millet provides a nice crunch in the cooked muffin, but overall it has a similar texture and mouthfeel to a corn muffin. Leave out the blueberries and this would go great with soup or chili in the fall.
Heidi's original recipe did not call for blueberries, and also requested the presence of the zest of one lemon. Sadly, my only remaining lemon was already zested, so I was zestless for these muffins. I also didn't quite have 1 cup of yogurt, so I topped it off with some milk.
Honey Millet Blueberry Muffins
adapted from Heidi Swanson's Super Natural Every Day
original recipe makes 12 muffins, I was able to make a dozen plus 6 mini-muffins
2 1/4 cups whole wheat pastry flour
1/3 cup raw millet
1 tsp baking powder
1 tsp baking soda
1/2 tsp salt
1 cup plain yogurt
2 large eggs, lightly beaten
1/2 cup melted unsalted butter
1/2 cup honey
Grated zest and juice from one lemon
3/4 cups fresh blueberries
1) Preheat oven to 400 degrees. Butter or line a standard 12 cup muffin pan (but have an extra one on hand, just in case you have excess batter like I did.) Whisk together flour, millet, baking powder, baking soda and salt.
2) In a separate bowl, whisk together yogurt, eggs, butter, honey, and lemon zest/juice.
3) Add the wet ingredients to the dry, and stir until just mixed. Gently fold in the blueberries. Divide the batter evenly among the muffin cups, filling each to just below the rim. Bake for 15 minutes, until muffins are golden brown and just beginning to crack.
These are best eaten the day they are baked, or the next day at the latest. (Freeze if it goes beyond that.)