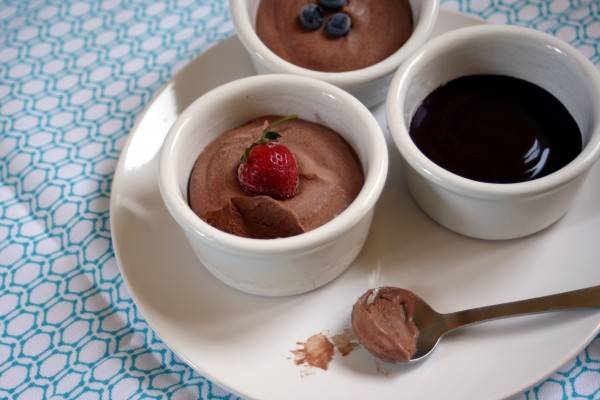 The massive heat wave that was hovering over Wisconsin (and much or the rest of the country) has finally broken, and we got a quick downpour of much needed rain.
With all of that heat, our ice cream maker has been working full-time. Several quarts of vanilla, strawberry, and salty caramel occupied our freezer for a brief time.
Over one birthday weekend, the kids ate a total of 5 ice cream cones each. Instead of having a limit, we like to think we have a quota to fill!
When not perched on a cone, ice cream is perfect topped off with this intense hot fudge sauce and a handful of salty roasted peanuts.
The sauce is oh-so-slightly adapted from Jeni Britton Bauer's Jeni's Splendid Ice Cream at Home, and then the sauce is whipped with fresh cream to make a mousse, which can in turn be frozen for a cool treat (or enjoyed as is).
This recipe was originally published in the Milwaukee Journal Sentinel weekly Tallgrass Kitchen column. See here for article and more details.
Hot Fudge SauceMakes a little over one pint
Adapted from Jeni's Splendid Ice Creams at Home, by Jeni Britton Bauer
 1 cup water
1/3 cup sugar
1/3 cup light corn syrup
¼ cup unsweetened cocoa powder
½ teaspoon vanilla extract
8 ounces bitter or semi-sweet chocolate, finely chopped
Combine water, sugar and corn syrup in a medium saucepan over medium-low heat. Bring to a boil, whisking to dissolve sugar.
Remove from heat and whisk in the cocoa powder and vanilla extract. Stir until very smooth. Add the chopped chocolate and let sit for five minutes.
Whisk mixture until completely smooth and glossy. Serve warm, or let it cool and store in the fridge. The sauce will thicken as it cools, just gently reheat until warm and pourable.
Frozen Chocolate Mousse
 1 cup heavy cream
¼ cup hot fudge sauce
Berries, for garnish (optional)
Whip heavy cream until soft peaks form. Add ¼ cup hot fudge sauce, and continue beating until well-combined and firmer peaks form.
Pour into individual ramekins. At this point, you could simply enjoy it as a regular chocolate mousse, or make it frosty for a steamy summer day. Dot with blueberries, raspberries, or very small strawberries. Freeze for at least 2 hours. Serve frozen.