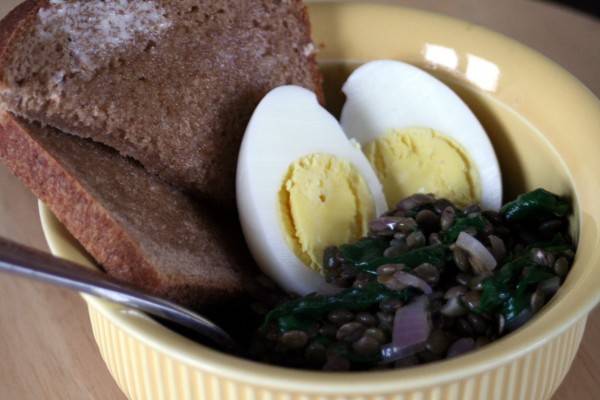 I think this dish is a perfect meal – it has fiber, protein, veggies, and it is delicious and comforting. It's a warm combination of lentils, spinach, and caramelized onions, with whole grain toast and a boiled egg to accompany it. I could eat it for any meal of the day, and be happy and satisfied.
It's from Deborah Madison's Vegetarian Cooking for Everyone – if you've never looked at this cookbook, it's a great one (whether you are a vegetarian or not). It has sections on different grains and legumes, pantry staples, soups, casseroles, breads, desserts, and the best part is the section on vegetables. Deborah has a few pages for each major vegetable, from artichokes to squash. She tells you the best and simplest ways to prepare each one, and then provides a few different recipes to inspire you.
Green Lentils and Spinach with Hard-Cooked Eggs and Toast, from Deborah Madison's Vegetarian Cooking for Everyone
1 cup green lentils (also called French lentils, they hold their shape better than brown)
1 tsp salt
1 T olive oil
2 T butter, plus 1 T for finishing
2 medium onions, diced
1 bunch spinach, washed and roughly chopped
1 garlic clove, minced
salt and pepper to taste
4 slices of whole grain bread, toasted
4 soft or hard-cooked eggs
1) Sort and rinse lentils. Place lentils and 1 tsp salt in a saucepan, and add water until covered by a few inches. Bring to a boil, and then turn down to a simmer. Cook until lentils are tender, about 25 minutes. Drain and save broth.
2) Heat olive oil and butter in skillet. Add onions and sauté until soft and beginning to brown, 10-15 minutes. Add garlic, cook about one minute. Add spinach along with some salt, and cook until bright green and starting to wilt, 2-3 minutes.
3) Add lentils to skillet, along with a little bit of the broth (you can save the rest of the broth in the freezer for another use — it has a great earthy flavor). Add another bit of butter, and salt and pepper to taste.
4) Serve with toast and peeled eggs. Yum!