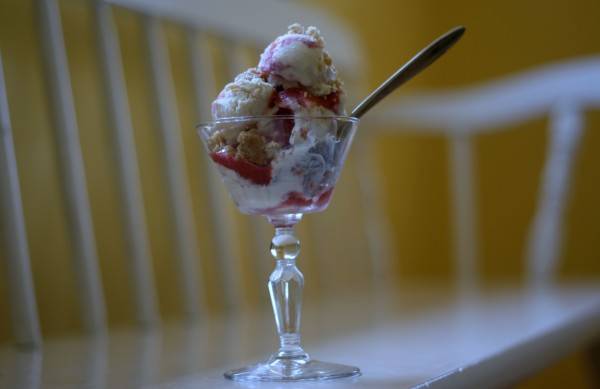 I love homemade ice cream. I love cold rhubarb crisp. A new favorite ice cream was born–rhubarb crisp ice cream. Cool, creamy ice cream layered with sweet oatmeal crisp and tart rhubarb sauce–it's like having rhubarb crisp in your freezer any time you want it.
The ice cream is based on Jeni Britton Bauer's (of Jeni's Splendid Ice Creams fame) technique of using cream cheese, cornstarch and corn syrup in the ice cream batter. It yields thick, creamy perfectly textured ice cream that stays perfect in the freezer for weeks.
I've already made this three times this spring.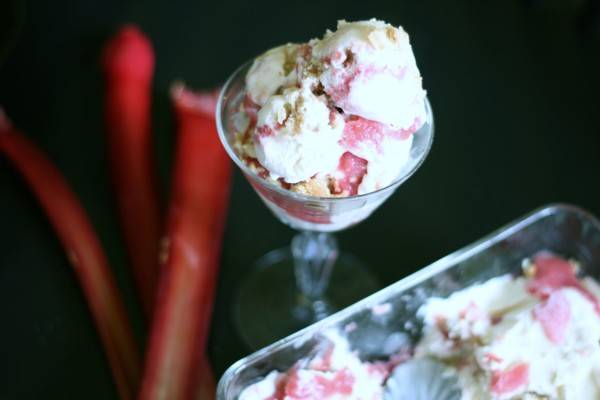 Rhubarb feels quaint and old-fashioned to me.
Grandmas and old farmers grow it. You find it at the farmers market, but not front and center. It's casually placed off to the side, like the grower plucked a bunch from the perimeter of the barn as an afterthought when loading up the truck.
You don't see fancy cultivars or heirloom varieties advertised, and if you do find a listing, they all read similarly: "Plant produces long, reddish green stalks. Good for freezing, pies and jam."
At my childhood home, I remember my Dad pulling a scarlet stalk from the plant in our backyard and chewing on it, trying to get me to do the same.
I asked him if he remembered the plant—he did.  It was there when they bought the house.  He then went on to reminisce about growing up himself, and that everyone had a plant in their yard. The kids would pick stalks and eat them, laughing at everyone's faces as they chewed the sour, pink flesh.
Driving through the country, you can find rhubarb everywhere you look. Most old farmhouses have a few plants tucked off to the side. This time of year, they are often the most visible plant in the yard with their distinctively large elephant-ear leaves.
I drive past one property regularly—I'm not sure who it belongs too, there isn't a farmhouse nearby, just agricultural fields. But in this small grassy meadow, there are no fewer than 20 rhubarb plants in a long, straight row. Who knows how long they've been there, or how many pies and pints of jam they've contributed to? Rhubarb can live for decades.
There is something magical to me about a plant that is so long-lived and prolific that the kids who eat grandma's rhubarb pie might someday make pies for their own children, from the very same plant.
Consider planting your own inheritance. Knock on the door of a farmhouse—the owner may be happy to share a few stalks, and maybe even divide a plant so you can have one in your own yard.
I'm envisioning similar flavors as the seasons change—peach and blueberry crisp ice cream in summer, apple crisp ice cream in the fall.
If you don't want to make your own ice cream, or don't have an ice cream maker, substitute store-bought vanilla ice cream. Let it soften and then layer with the rhubarb sauce and oatmeal crisp as directed.
Make-ahead and storage: Both the crisp topping and rhubarb sauce can be made 2-3 days ahead. Once combined, the ice cream can be stored in the freezer for several weeks.
CAUTION: The leaves of the rhubarb plant contain high levels of oxalic acid and should never be consumed.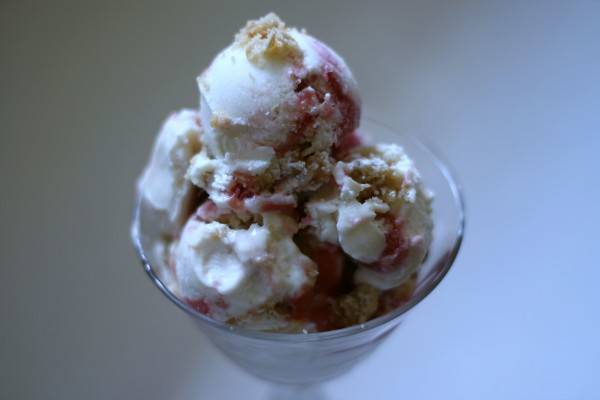 Rhubarb Crisp Ice Cream
Makes 1 quart
2 cups whole milk
1 tablespoon plus 1 teaspoon corn starch
3 tablespoons cream cheese (1 ½ ounces), softened
1/8 teaspoon fine salt
1 teaspoon pure vanilla extract
1 ¼ cups heavy cream
½ cup packed brown sugar
2 tablespoons corn syrup
Rhubarb sauce (see recipe)
Crisp topping (see recipe)
Measure milk and pour into a large, heavy pot (at least 4 quarts, but I use a larger one to prevent milk from boiling over.)
In a small bowl, add cornstarch, plus two tablespoons of already measured milk from pot. Whisk until smooth and set aside.
In a large mixing bowl, place cream cheese, salt and vanilla.
Add cream, brown sugar and corn syrup to milk in pot. Bring to a boil over medium high heat, whisking occasionally. Watch carefully, as milk boils over very easily.
Let cook at a full boil for four minutes exactly. Remove from heat, whisk in cornstarch mixture and return to a boil until thick, about 1 minute. Remove from heat.
Add about a cup of hot milk mixture to cream cheese, and whisk until cream cheese is fully incorporated and smooth. Add the remaining milk mixture and whisk well. If you have difficulty getting all of the lumps out, pour ice cream batter through a fine-meshed strainer.
Cover mixing bowl and let chill for several hours until completely cool. To chill it faster, put warm ice cream batter into a gallon Ziploc bag and submerge the closed bag into a bowl of ice water. Batter must be completely chilled before freezing.
Freeze in ice cream maker, following manufacturer's directions.
In a storage container, place a spoonful of rhubarb sauce and sprinkle crisp topping on the bottom. Cover with a layer of the ice cream. Add another layer of sauce and crisp, pressing down with a spoon here and there to create pockets of sauce. Pour on more ice cream and repeat, ending with ice cream.
Only use as much rhubarb sauce and crisp topping as you want. I typically have a little of each left over after assembling the ice cream, which I use to top the ice cream when serving.  The number of layers will depend on shape of storage container. I prefer a shallow container and about three layers, but if using a more traditional ice cream container (a quart yogurt container works perfectly), make more layers.
Press parchment paper onto the surface of the ice cream. Put on lid and freeze for several hours to firm up.
Rhubarb Sauce
Makes about 1 cup
½ pound fresh rhubarb stalks, roughly chopped
1/3 cup sugar
1/8 teaspoon fine salt
Preheat oven to 350 degrees.
Toss rhubarb with sugar and salt and place in a small baking dish. Bake for about 15-20 minutes, until rhubarb is very soft.
Remove from heat. Depending upon how smooth you'd like your rhubarb, you can either mash it or puree it in a blender or food processor. Let cool before mixing it into the ice cream.
Crisp Topping for Ice Cream
Makes one 8×8 pan
¾ cup all purpose flour
1/3 cup sugar
1/3 cup packed brown sugar
½ cup oatmeal
½ teaspoon fine salt
½ cup butter (1 stick), cold and cut into small pieces
Preheat oven to 350 degrees. Combine the flour, sugars, oatmeal and salt in a large bowl. Using two forks, a pastry cutter of your fingers, cut or rub the butter into the flour/oatmeal until the mixture resembles large peas.
Lightly press into an 8×8 baking pan. Bake until golden brown, about 15-20 minutes.
Let cool in pan. Break into small pieces before mixing into ice cream.