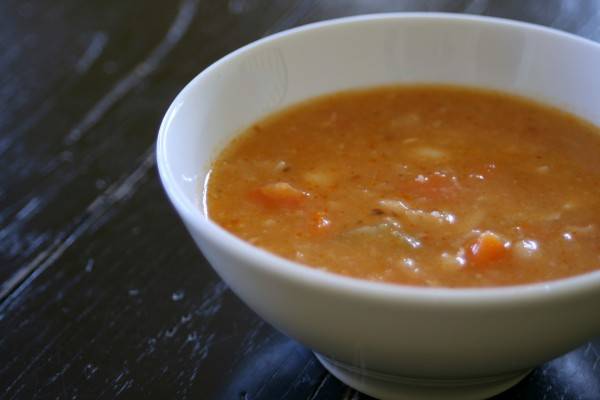 The beans are white, but the soup is a richly hued orange. It's warm, comforting, with subtle notes of fennel polished by a good olive oil. If your beans are cooked, it's fairly quick to put together. We enjoyed it with warm rolls and glasses of milk. I'm sure the more sophisticated among you can find a more elevated beverage, but milk hit the spot here.
Earlier, I gave you the skinny on soaking your own beans. Here's an opportunity to use them. You will need approximately 1 1/2 lbs of dried beans, soaked and cooked.
White Bean Soup
1/4 cup extra virgin olive oil, plus additional for drizzling
1/2 cup celery, diced (about two stalks)
2 cups carrots, diced (about 3 whole carrots)
1 T fresh garlic, minced (about 3 cloves)
a dash crushed red pepper (more if you want a noticeable kick, instead of some reserved heat)
1 tsp dried oregano
1/2 tsp whole fennel seed, lightly crushed with the back of a knife
pinch of salt
2 T tomato paste
6 cups broth or soaking water from beans
7 cups beans
Heat olive oil in a large soup pot. Add celery, carrot, garlic, crushed red pepper, oregano, and fennel. Cook, stirring until vegetables begin to soften and everything is fragrant. Add salt and tomato paste, continue to cook for a few more minutes, stirring to coat the vegetables in tomato paste.
Add broth and cooked beans. Bring to a boil, then turn heat down to a simmer. Use a potato masher to mash the beans right in the pot. You don't need to mash up every bean, just break them down to add thickness to the soup. Let simmer partially covered for about 20 minutes until soup is thick and bubbly, stirring occasionally. Taste, and add additional salt if needed.
Serve with an additional drizzle of olive oil.