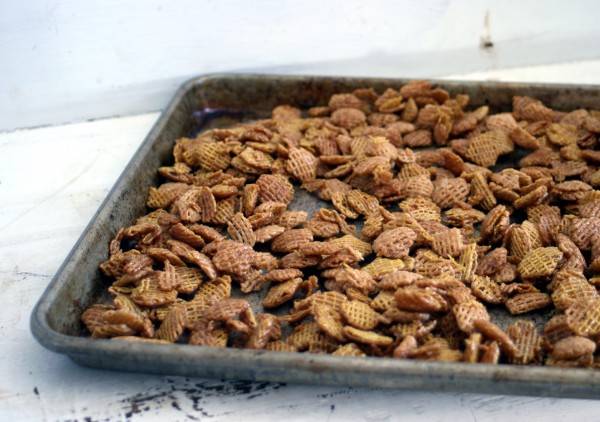 I try to pretend I'm a high falutin' foodie, with my fancy salts and rare grains. The truth is, I love recipes printed on the sides of cereal boxes–especially the kind that involve butter, sugar, and not much else.
My sister-in-law made this a few years ago for the holidays, and I couldn't stay out of it. I've adapted it a bit (swapped maple syrup for corn syrup, and added vanilla), but it's still pretty much butter, sugar, and cereal.
It's yummy.
Caramel Crunch
1 stick butter
1 cup brown sugar
1/3 cup maple syrup
1/2 tsp salt
1/2 tsp vanilla
1/2 tsp baking soda
8-10 cups Crispix cereal, Chex, or something similar
1) Melt butter in a saucepan, or in the microwave. Add brown sugar, syrup, and salt. Heat for a few additional minutes until it begins to boil.
2) Remove from heat (or take out of the micro). Stir in vanilla and baking soda, and pour over cereal, tossing to coat.
3) Heat coated cereal for another 1-2 minutes in the microwave, or five or so on the stove top. Spread on cookie sheet to dry.
Eat a little bit, then package up for a neighbor (or you'll be sorry.)