It's the first day of the new year. I should be posting something wholesome and healthy, but one of my boys asked me to make scones for breakfast. Our butter supply has been completely depleted by Christmas cookie baking, so we opted for muffins instead. The fact that muffins are simpler to make than scones helped alleviate my sadness that there isn't a knob of butter to be found in the house.
I began with King Arthur Flour's basic muffin recipe and added sweet dried cherries and dark chocolate. I also adopted their muffin-baking technique, which was touted as creating beautiful muffin domes. And it delivered–check out those mini-muffin moutains! I've never had a muffin recipe puff up so dramatically.
KA recommends preheating your oven to 500 degrees, then dropping it to 400 degrees when the muffins are put into bake. It is this temperature switch that causes the muffins to rise so effortlessly. I'm never cooking muffins any other way again. It sounded like too hot an oven, but they were cooked through and lightly golden at the 25 minute mark.
I chopped up Callebaut semi-sweet chocolate and dried cherries, irregularly but on the fine side, so that bits of chewy fruit and melt-y chocolate would be found throughout the muffin.
All in all, it was a warm and cozy way to start this chilly new year.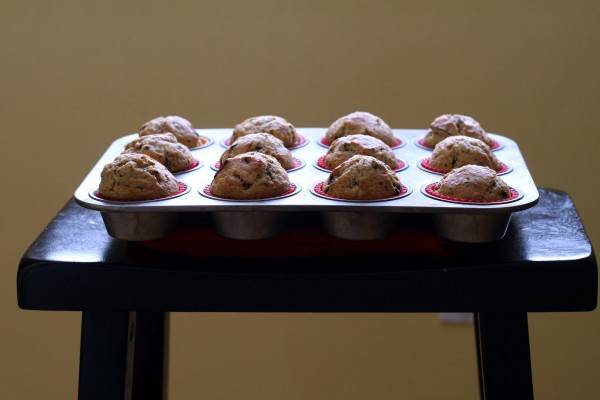 Chocolate Cherry Muffins
Makes one dozen
2 cups all-purpose, unbleached flour
1/2 cup sugar
1 tablespoon baking powder
1/2 teaspoon fine salt
1 cup milk
1/4 cup vegetable oil
2 large eggs
1 teaspoon pure vanilla extract
2 1/2 ounces dark chocolate, chopped
1/2 cup dried cherries, chopped
Preheat oven to 500 degrees. In a large bowl, whisk together flour, sugar, baking powder and salt.
In a medium bowl, whisk together milk, oil, eggs and vanilla.
Add wet ingredients to dry, and stir until barely combined (the batter will still be lumpy.)
Gently fold in chopped chocolate and cherries.
Line a standard size muffin pan and fill each cup up with batter almost to the top.
Put muffins in oven and drop temperature to 400 degrees.
Bake for 20-25 minutes until muffins are lightly golden-brown. Let cool for a few minutes, then remove muffins from pan to a cooling rack.