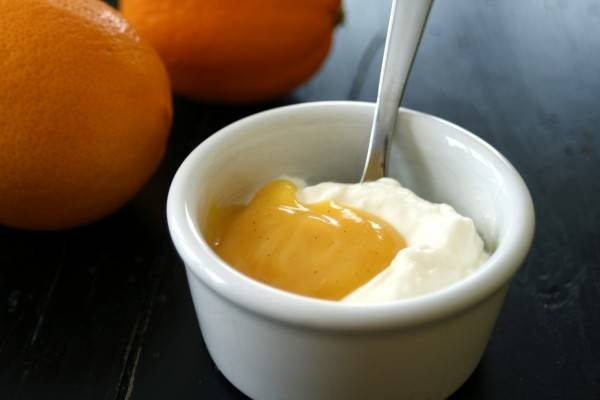 So I realize this photo makes my dish look a little like a sunny-side up egg. It is not. It is a dollop of golden honeyed lemon curd. I came across Meyer lemons at the store (thought to be a cross between a lemon and a mandarin orange), which are super-seasonal around here. Last year I made these cookies.
I wanted to make a fruit curd, because they are versatile, rich, and delicious. Dollop on Greek yogurt (as above), smear on toast, top pancakes, fill cupcakes, layer cakes, or (unless you have more restraint than I do), simply eat it with a spoon.
Meyer lemons are sweeter than their common cousins and have a floral perfume that gives them their distinctive charm. I layered lemons, honey, and vanilla bean seeds for a sweet, exotic, tart spread. However, the citrus and honey can carry the curd on their own, so don't sweat it if you don't have a vanilla bean.
I'm a contributor at gojee.com, a unique web site that allows you to type in ingredients you have on hand and match you with recipes you can make. Check it out!
They're having a virtual potluck, and there will be lots of delicious contributions. Starting on Thursday, January 26, check out other potluck dishes fellow gojee contributors shared. Go to gojee.com and enter "gojeepotluck" into I Crave.  You can also follow #gojeepotluck on Twitter.
Honey Meyer Lemon Curd
1/2 cup Meyer lemon juice (from two plump Meyer lemons)
1 cup sugar
1/2 cup honey
4 eggs
seeds scraped from one vanilla bean pod (optional)
1/8 teaspoon fine salt
1/2 cup butter (1 stick), cold, grated on a box grater
Combine lemon juice, sugar, honey, eggs, vanilla bean seeds, and salt in a heavy-bottomed medium saucepan. Whisk until smooth. Grate butter directly into saucepan, and whisk again.
Heat mixture over medium-low heat, stirring occasionally until butter melts. Turn heat up to medium, and heat until curd thickens, stirring frequently. It will noticeably thicken up just before boiling (about 10 minutes into cooking). Don't worry, you'll know when it happens.
Remove from heat, and pour into a glass jar or container. Let cool, and then store in the fridge up to two weeks.