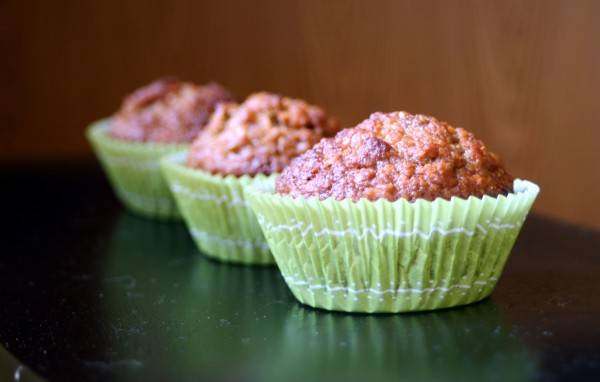 Before the barrage of holiday cookie recipes envelope me in a flurry of flour and a shower of sugar, I thought I'd sneak in one full-of-fiber snack.
A good bran muffin can be hard to find. Whole wheat flour and bran in the wrong muffin, can be dense, dry and tasteless. In the right hands, it can be a treat. Whose hands are better known for working magic into bread and pastry dough than Nancy Silverton, baker extraordinaire?
I love muffins for their versatility and simplicity. This particular muffin recipe has a few additional steps, but they are worth it for the flavor they bring. This recipe is a little sweet from the pureed dates and brown sugar, and have a light and chewy texture from the toasted oat bran and old fashioned oats.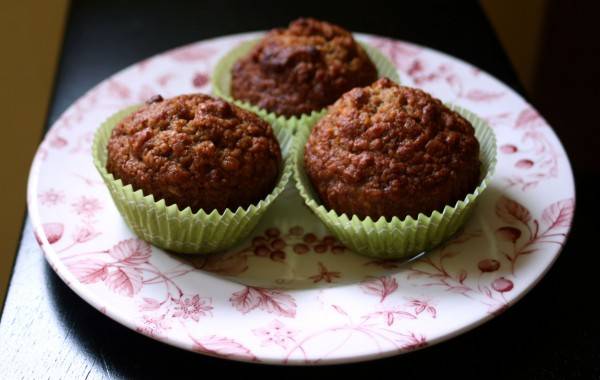 A hearty breakfast, a wholesome snack–we even ate them with rice and beans for dinner. For dessert, serve them with jam, honey or maple butter.
I came upon this recipe through the incomparable David Lebovitz, a talented chef and writer. He has a beautiful story to accompany his introduction to these muffins.
He adapted this recipe from Silverton's Pastries from the La Brea Bakery, and I adapted it a bit more based on the ingredients I had on hand (another reason muffins are fantastic–they are adaptable and customizable). I loved how they turned out– they are definitely being added to my muffin repertoire.
Oat Bran Muffins
adapted from Nancy Silverton Pastries from the La Brea Bakery, via David Lebovitz's blog,Living the Sweet Life in Paris
Makes 12 muffins
1 cup oat bran
1 cup pitted dates
1 cup water
1/2 cup all-purpose flour
1/4 cup whole wheat flour
1 cup old-fashioned oats
1 teaspoon baking powder
1 teaspoon baking soda
1/2 teaspoon salt
1/2 cup packed light brown sugar
1/2 cup plain yogurt
1/2 cup vegetable oil
2 eggs, lightly beaten
Preheat oven to 350 degrees. Spread oat bran on a jelly roll pan and toast for 5-7 minutes, stirring occasionally until fragrant and light brown. Remove from oven and raise temperature to 400 degrees.
In a small saucepan, bring dates and 1 cup of water to a simmer. Cook for 10 minutes, remove from heat. Pour dates and cooking water into a food processor or powerful blender, and puree until a smooth paste forms.
In a separate large bowl, combine flours, oats, baking powder, baking soda, salt, toasted bran and brown sugar. Whisk together.
Stir in yogurt, vegetable oil, date puree and beaten eggs until just combined.
Line a 12 cup standard muffin pan and mound batter to the top of each cup.
Bake in a 400 degree oven for 20-25 minutes until a toothpick stuck in the center comes out clean.