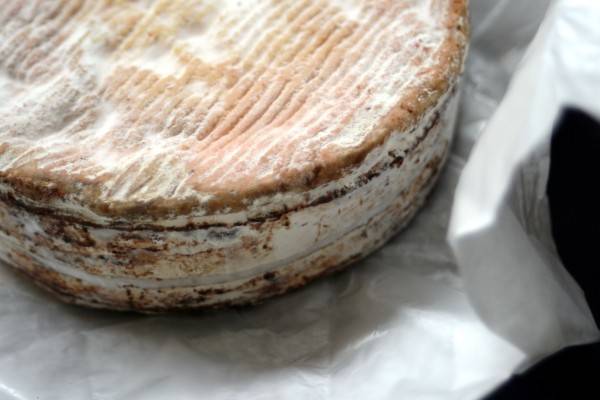 Uplands Cheese Company, out of Dodgeville, WI is the result of two families and farms harmonizing–coming together to do something unique and special amid today's giant factory farms. The Gingrich's and the Patenaude's house a dairy farm and creamery on Pleasant Ridge in the striking, undulating driftless region of Wisconsin.
The two types of cheeses produced here are exceptional, and this has as much to do with the talent of the cheesemakers as it does with the flavorful pastured milk that is used to make it.
The farmers have carefully bred their cows to produce milk that is tailored to their champion cheese, Pleasant Ridge Reserve (my all time favorite.) Produced in the summer when the cows are exclusively pastured.
As the lightening bugs fade and the leaves begin their transition from green to gold, the cows also transition from fresh grass and legumes to rich, dry hay. It is at this point that the milk's flavor changes, and a new cheese is produced–Rush Creek Reserve.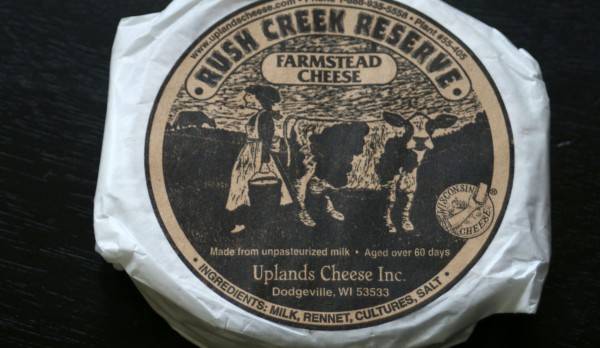 This is only the second year Rush Creek has been produced, and it is a decadent treat. It had rested on my cheese 'bucket list' all year, and a few weeks ago I made a quick evening stop by Whole Foods in Madison. Feet from the front door I ran into a small table with samples of Pleasant Ridge and Rush Creek.
Serving the samples was the young cheesemaker himself, Andy Hatch. Hatch received his cheesemaking license in 2007, and took over Uplands' creamery operations in 2008. He apprenticed for two years in Europe, which undoubtedly influenced his creation of Rush Creek.
Rush Creek is a cousin to the French Vacherin Mont d'Or–a washed rind cheese, wrapped in spruce bark. Brought to room temperature or gently warmed in an oven, it is sliced open to reveal a creamy, buttery cheese that will be the centerpiece of any cheeseboard.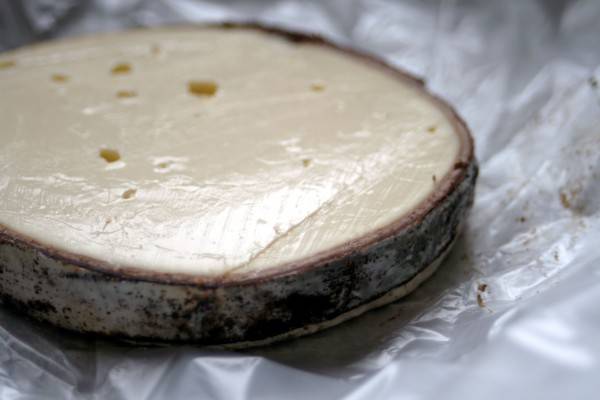 It is complex–smoky and meaty, with notes of evergreen from the bark. Eat it with a spoon, or with the simplest accompaniments of bread, rustic crackers and fruit. I drizzled a spoonful with a bit of wildflower honey, and it brought out an outstanding mushroom note–I felt like I was eating a truffle.
This cheese is a winner, and it's only available this time of year in limited release. You should be able to find it until the end of February at groceries with outstanding cheese counters and stores dedicated to fine cheeses (like Fromagination in Madison, Murray's and Cowgirl Creamery). If you can't find it locally, you may order it directly from Uplands Cheese. Here is a map of store locations if you'd like to save some shipping and meet your neighborhood cheesemonger.
Rush Creek is developing a cult following that has reached national levels. You can read more about this special cheese in the New York Times or the Kitchn, and more about Hatch's cheesemaking journey in Edible Madison.