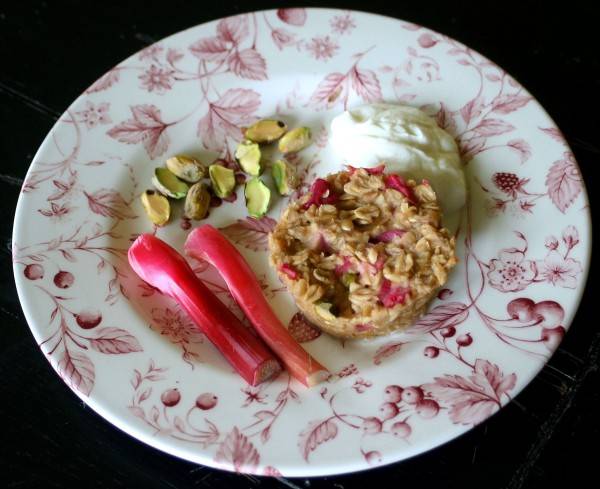 I try to make it a habit not to complain about the weather.
It seems like a cop out–we must have something better to talk about. There is absolutely NOTHING we can do about it. Let's just deal with it and get on with things.
We've had about seven inches of rain over the past 30 days–the drought is officially over, and we hope that all of these showers bring lots of May flowers…and asparagus…and rhubarb!
The scarlet knobs that begin forcing their way out of the soggy earth long before a shy daffodil even begins to think about opening is my first inkling, and hope, that spring is coming. The rhubarb is up, and the asparagus isn't far behind.
If you're lucky enough to have fresh rhubarb available already, then these baked oatmeal cakes are a treat for breakfast or snack. This was a favorite recipe from my newspaper column last year, so I thought it was worth re-publishing here for spring.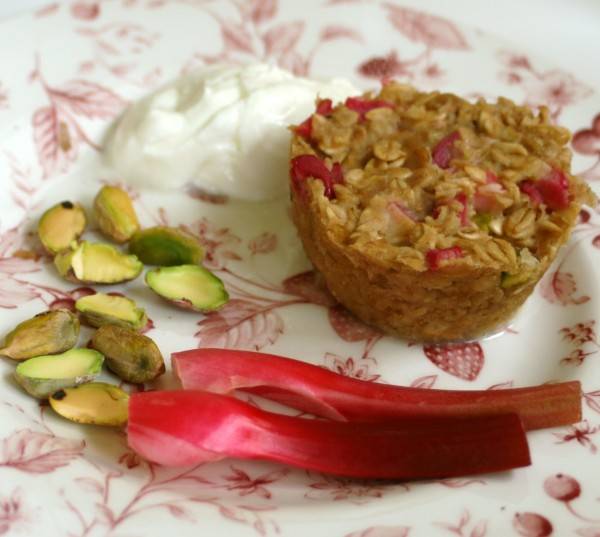 The pink rhubarb and bright green pistachios look so pretty together, and this dish happens to be egg, dairy, and gluten-free to boot. The original article can be found here.
Baked Oatmeal with Rhubarb and Pistachios
Makes 12 'cakes'
 3 cups old fashioned oats (gluten-free, if desired)
1 teaspoon baking powder
½ teaspoon salt
1 cup unsweetened applesauce
1 cup coconut milk (any creamy non-dairy milk or dairy milk may be substituted)
¼ cup vegetable oil
½ cup maple syrup
1 teaspoon vanilla
1 ½ cups small diced rhubarb
½ cup chopped pistachios
Preheat the oven to 375 degrees. In a large bowl, whisk together oats, baking powder and salt. Add applesauce, milk, oil, maple syrup and vanilla. Stir until well combined.
Fold in rhubarb and pistachios.
Grease or line a standard 12 cup muffin pan. Lightly pack batter, nearly filling each cup to the top.
Bake for 15-20 minutes, until a toothpick inserted in the middle of a cake comes out clean.
Let cool in the pan for five minutes. Run a knife around the edge of each cake, and then lay a cookie sheet on top of the muffin pan. Invert the pans to release the cakes from the muffin pan to the cookie sheet.
Some additional ways to enjoy  rhubarb:
Rhubarb Rosemary Daiquiri from Under the High Chair
Strawberry Rhubarb Crumb Cake from Cooking with my Kid