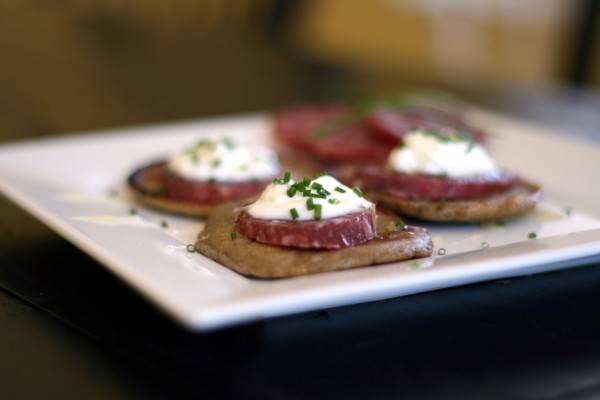 As a blogger, I get frequent emails to try out one product or another. My rule is to turn them down unless it is something I'd consider buying myself. This means I turn down most of them.
But when I was approached by Lori Fredrich of the famed Milwaukee blog Burp to sample and develop two recipes featuring artisan salami from Bolzano Artisan Meats, I didn't hesitate.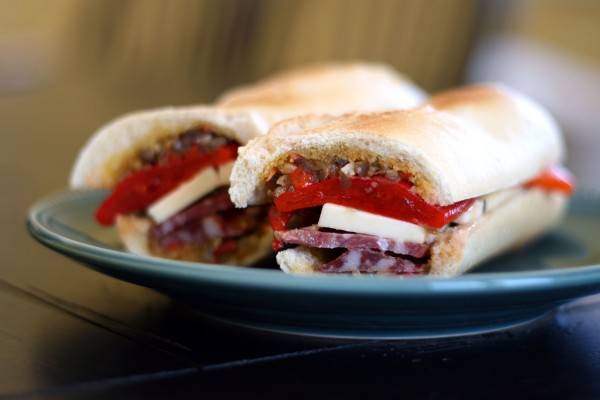 There was a selection of delicious options to choose from, but I settled on the simplest: Pig Red. Made from heirloom Red Wattle pork, this dry-cured salami has no additional spices or flavors. The taste of this heritage pork shines through.
My package arrived in the mail, and I tasted it immediately. Fruity, complex, but still straight-forwardly porky, I knew that I didn't want to hide the flavor in anything complicated. I wanted this delicious meat, enhanced by an age-old fermentation process, to be the star.
I settled on an appetizer of blini, salami and creamy yogurt and a sandwich reminiscent of the New Orleans muffaletta. I hope you enjoy them as much as I did, and I hope you are able to try all the varieties of Bolzano's dry-cured salamis.
At the bottom, please see links to other bloggers recipes featuring other salami flavors.
Brown Butter Blini with Salami and Yogurt
makes about 24 small servings
3 tablespoons unsalted butter
1 cup whole milk
1 tablespoon dark honey
1/3 cup buckwheat flour
½ cup all-purpose flour
1 ¼ teaspoon active dry yeast
½ teaspoon salt
2 eggs, lightly beaten
24 thin slices of "Pig Red" Bolzano Salami (about 5 ounces)
2/3 cup thick plain yogurt
1 small bunch fresh chives
additional honey for drizzling
In a small saucepan, heat butter over medium-low heat until golden brown and fragrant. Whisk in 1 cup whole milk and 1 tablespoon honey. Let mixture cool to 110 degrees.
In a separate large bowl, whisk together buckwheat flour, all-purpose flour, yeast and salt. Add milk mixture to flour, cover bowl and let rise in a draft-free place for about an hour.
Whisk to deflate risen batter. Stir in eggs. Cook blini by the tablespoon in a hot, buttered skillet. Pour batter. When uncooked side forms bubbles that pop and hold their shape, flip. Cook additional 2-3 minutes until golden brown.
Top each blini with a thin slice of "Pig Red" salami, a teaspoon of yogurt, snipped chives and a drizzle of honey.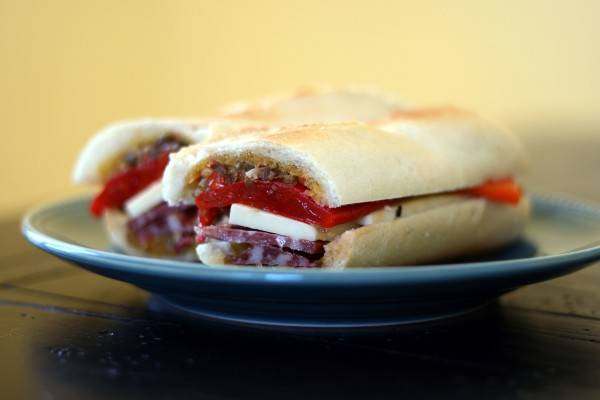 Muffaletta-esque Sandwich
Serves 2
1 demi baguette
½ cup olive salad
6 ounces "Pig Red" Bolzano salami, sliced thin
3 ounces provolone cheese, sliced thin
3 roasted red peppers, cut into slices
Split baguette in half. Scrape out a little bread from each side to create a hollow. Fill both sides with olive salad. (Note on olive salad: there are lots of recipes available, or prepared olive salad can be found in grocery stores with the pickles.)
Layer one side with salami, cheese, and roasted red peppers. Top with other side. Wrap entire sandwich in plastic and weigh down with a heavy pot lid. Let rest in fridge for at least an hour.