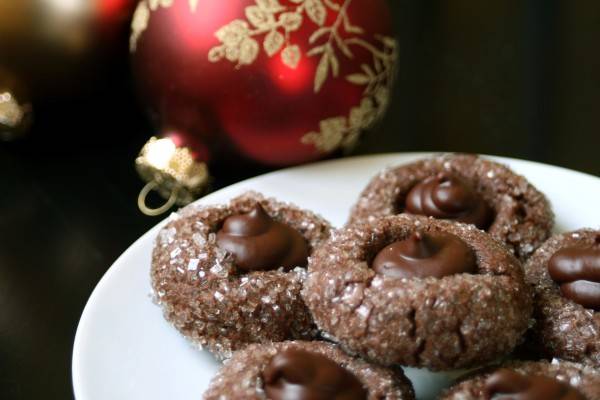 Aren't these cute? If you still need a little cookie to round out your holiday platter, these chocolate gems have a whisper of peppermint and a nice crunch of sugar. And did I mention they're adorable?
Chocolate Peppermint Thumbprint Cookies
adapted from Everyday Food December 2011
2 cups flour
2/3 cup unsweetened cocoa powder
1/2 teaspoon salt
15 Altoid peppermint candies, crushed to a fine powder (optional)
1 1/4 cups unsalted butter, softened (2 1/2 sticks) divided
1 cup sugar
1/2 cup brown sugar
1 egg
1 tablespoon pure vanilla extract
3/4 cup bittersweet chocolate chips (5 ounces)
3/4 teaspoon pure peppermint extract 
1/2 cup additional sugar or sanding sugar (extra sparkly)  for rolling cookies
In a medium bowl, whisk together flour, cocoa, salt, and Altoid powder (if using).
In another bowl, add 1 cup of the butter and both sugars and beat on high until light and fluffy. Add egg and vanilla and mix until combined. Pour dry ingredients into wet, and mix on low until just combined.
Preheat oven to 350 degrees and put 1/2 cup sanding sugar in a shallow bowl. Shape dough into one inch balls roll in sanding sugar to coat. Place balls on a lined cookie sheet one inch apart.
Bake for five minutes. Remove from oven, and with a small rounded teaspoon or melon baller, gently press into the center of each cookie, making your 'thumbprint'. Return to oven and cook for an additional four minutes (bake until set, but still moist.)
In a microwave-safe bowl, combine chocolate chips and remaining 1/4 cup butter. Melt in 20 second increments, stirring in between, until melted. Stir until smooth, stir in peppermint extract. Let cool slightly, until thickened enough to pipe or spoon.
When cookies are cool, fill a piping bag or ziploc bag (cut the corner) with the chocolate mixture and fill cookie indentations. You can also carefully do this with a small spoon.
Store in an airtight container for up to a week.