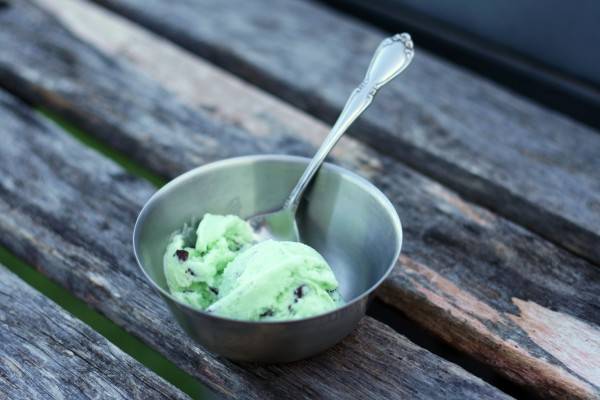 This may be my favorite week of the year.
According to the calendar, summer ended several weeks ago. But this early October week was glorious and golden.
Mornings are chilly enough to layer on a zippered sweatshirt and enjoy a warm drink, but by mid-afternoon the sweatshirts have been abandoned in a pile on the ground. The kids are tearing around the yard, yelling, building, tagging and I'm coaxing a few more sun-ripened tomatoes from my vines.
It was an afternoon for ice cream, and probably the last cones we will enjoy outdoors. My eldest's favorite flavor is mint chocolate chip, and I planted a wild, trailing mint plant for just this purpose. At the ripe age of five he has been out in the world long enough to be convinced that mint chocolate chip ice cream should be GREEN. I heartily disagreed, but he held fast.
I dug out the food coloring from the dusty depths of the cupboard and reluctantly added a single drop to the churning batter. A single drip was all it took to achieve the traditional pale green. A large bunch of backyard-grown mint was all it took to imbue the cream with a strong and spirited flavor.
And in the end, I think I am convinced. Green mint chocolate chip ice cream just might taste a little mintier than its paler, un-tinted cousin.
Backyard Mint Ice Cream
by Jeni Britton Bauer, from Jeni's Splended Ice Creams at Home
2 cups whole milk, 2 tablespoons reserved
1 tablespoon plus 1 teaspoon cornstarch
3 tablespoons cream cheese, softened (3 ounces)
1/8 teaspoon fine sea salt
1 1/4 cups heavy cream
2/3 cup sugar
2 tablespoons light corn syrup
a large handful of fresh mint, torn into pieces
4 ounces good dark chocolate, chopped (and melted when ready to make ice cream)
Whisk two tablespoons of milk and cornstarch together in a small bowl, set aside.
Place cream cheese and salt in a large bowl, set aside.
Heat remaining milk, cream, sugar and corn syrup in a large stockpot. Bring to a rolling boil and then let it go for four minutes. Turn off the heat and whisk in the cornstarch slurry. Return to heat and a boil, and boil for one minute until thickened.
Little by little, pour the hot cream into the bowl containing the cream cheese. Whisk vigorously until very smooth.
Add in the mint, cover and chill for several hours or overnight.
When ready to make, strain out the mint and churn ice cream according to ice cream machine's directions. When ice cream is almost finished, melt chocolate until it is smooth. Drizzle in top of ice cream maker, letting chocolate harden and break up into little chips or 'freckles'.
Store in an airtight container in the freezer.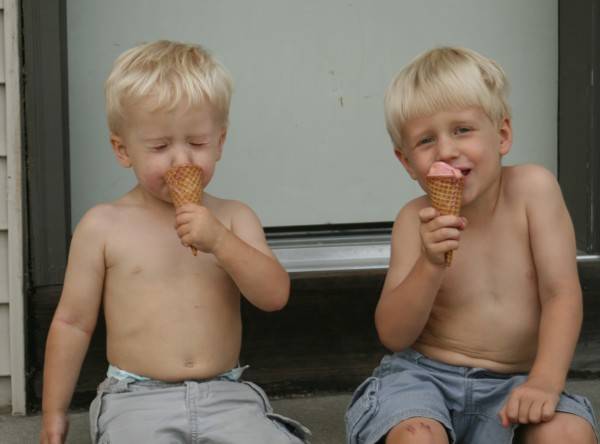 It wasn't this warm–they didn't enjoy their ice cream shirtless, but I love this photo too much not to include it.