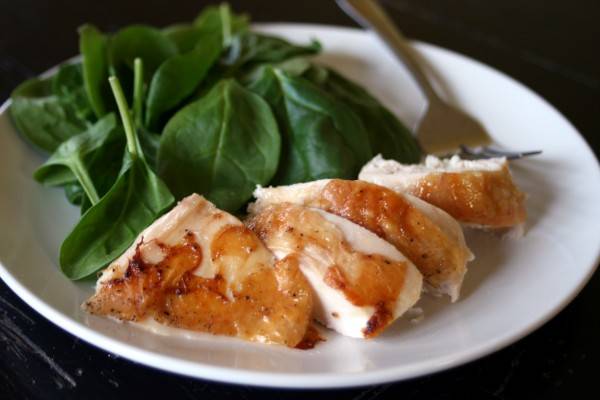 The aroma of roast chicken evokes Sunday dinners at Grandma's. Crisp, golden skin, juicy meat, tender vegetables flavored with drippings, bones simmered into golden stock, and leftovers.
The frugality of a whole chicken allows me to purchase a really good chicken. And with something so simple as roasted chicken, well-pedigreed poultry makes a difference.  If I can, I purchase local and pastured. At the minimum, I buy a bird that has not been treated with antibiotics or injected with any solutions. It doesn't get much better–oh wait, it does. Because of all the leftovers, it's super-economical.
There are scads of recipes for roast chicken, and I encourage you to try many of them. They really are easy. If you want something a little more effortless, try cooking the bird in your slow-cooker. It doesn't result in a finished bird that's a looker, but the meat is juicy and needs a minimum of your attention. Just salting the night before, and chopping of a few vegetables if you like.
And when you are done cooking, you can toss the frame back into the pot with a few extras and simmer overnight. This will give you the most luscious chicken stock, which is not only flavorful and endlessly useful, but apparently extraordinarily healthy too. Check out this 'bone broth 101' by Jenny of Nourished Kitchen. (And here's a tip, when feeding it to your family, don't refer to it as bone broth, or wonder approvingly aloud about all of the gelatin and marrow in your stock–it may freak them out.)
You can find my recipe for slow-cooked whole chicken and stock in this week's Milwaukee Sentinel Journal's food section. I'm writing a weekly column there, and couldn't be more excited. The editors and staff are a warm and talented group, and I am thrilled to be working with them.
And if you haven't done so already, please follow Tallgrass Kitchen on face book. Just click the 'like' button up in the right hand corner.